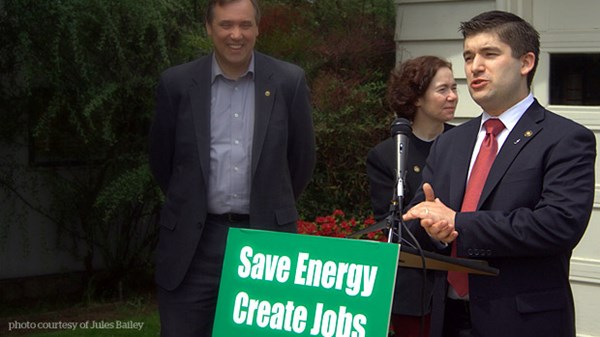 The Cost of Serving Portland—and Jesus—as an Oregon Politician
State Representative Jules Bailey, an unlikely Christian, has drafted some of the most innovative environmental legislation in the state.
1.12.12
Bailey's sacrifice goes beyond callused hands. He works 80-hour weeks when the legislature is in session. "And I have to put my environmental consulting company on mothballs," he said, a move that costs him 75 percent of his potential earnings.
Holding public office is so costly that when Bailey talks to students about a career in politics, he tells them, "If you can imagine yourself being happy doing anything else, go do that." But for himself, he said, "It's the only job I can imagine making me happy. This is what I was called to do."
Bailey credits the influence of a chaplain who met with him weekly in graduate school, as well as Imago Dei Community, the church he's attended since 2009, with helping him sustain the faith he embraced while reading Dostoyevsky.
Bailey plans to continue his political career for the foreseeable future. In preparation for 2012, he has filed for reelection, and he's been watching the Independent Film Channel's comedy series Portlandia. "I learn a lot from it," he said of the show, now debuting its second season. "It's like a documentary about my district."
Bailey says his faith and political career are interconnected—but not in the way many other Christian politicians have comingled the two. "I've never prayed to ask God how I should vote on a specific bill," he said. "But what I do pray for frequently is the ability to put my ego and ambition aside and make the best decision for the people I serve," he said. "Public policy is a pragmatic issue, but we all approach our jobs with a soul. And that's what I try to align with the Lord."
Sarah Thebarge lives and practices medicine in Portland, Oregon. She writes at My Tropic of Cancer, the Burnside Writers Collective, and Her.meneutics, and has written for This Is Our City about fellow Portlander Tom Perez.
MORE FROM CHRISTIANITY TODAY