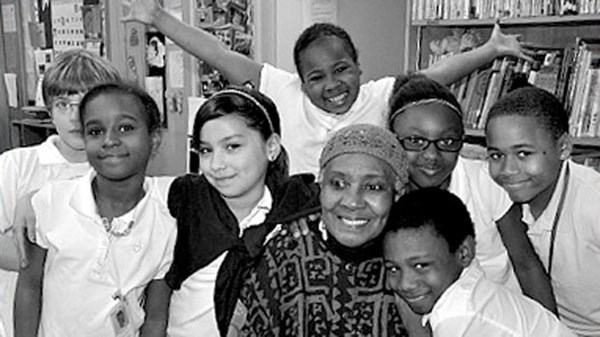 Image: BoiseVoices.com
Why You Should Eavesdrop on Your Neighbors
What happened when Portland third-graders interviewed their elderly neighbors about their city's past.
5.10.12
A collage of tidy older homes, hip coffee shops, ramshackle clapboard houses, and parks line the busy streets of the Boise neighborhood in Portland, Oregon. Boise is home to wise elders who have been rooted in this colorful historic neighborhood for decades. It is stomping ground for an assortment of gangs who posture for power and keep police on regular patrol. It is also prime real estate for gentrification. Established as a Scandinavian and Polish neighborhood in the late 19th century, Boise has over the years become one of the more ethnically diverse neighborhoods in inner city Portland.
Apricot Anderson Irving is the daughter of missionaries to Haiti. Her third-culture upbringing compelled her to ensure her two young boys would feel at home in a diverse community. Boise met her criteria. In 2008, when Apricot and her husband, David, moved the family from London to the neighborhood, Boise's urban renewal was already in full swing.
"I had been a stay-at-home mom for several years and was ready for a creative outlet," explains Apricot, a freelance writer and audio producer, whose stories have appeared on This American Life and in her forthcoming book, The Missionary's Daughter. "I loved the neighborhood but was sensitive about displacing the existing community. I started attending neighborhood meetings. I also spent a lot of time in my garden, where I would have the most amazing conversations with strangers who stopped on the sidewalk to tell me their stories. I wanted to find a way to share those stories with others."
Inspired by an elder storytelling event hosted by a local community center Apricot got in touch with Erin Yanke from KBOO radio station. Although Apricot's first inclination was to conduct interviews herself, she realized that as a newbie in the neighborhood, she needed to incorporate as many other perspectives as possible. That spirit marked the birth of the Boise Voices Oral History Project.
Conversations at two schools within walking distance of Apricot's home led to enthusiastic support for the project. Boise-Eliot Elementary School became the training ground for a lively cadre of third-grader interviewers. Apricot and Erin also taught interviewing techniques to at-risk high school students from the Albina Youth Opportunity School. Apricot used her experience as a writer as well as questions from the Smithsonian Folklore Institute to help the students develop their own interview questions.
The students were matched with Boise residents who had strong ties to the neighborhood, from the 1930s to the present. Conducting a 45-minute professionally taped interview, speaking clearly with direct eye contact, minimal fidgeting, and genuine interest is no small feat for anyone. The kids took the assignment to heart.
Apricot says nervous kids entered the temporary "recording studio" (the school library or a borrowed classroom) and left with their heads high and shoulders squared. One shy teenage girl who faced real struggles in her life, leaned forward mid-interview, fixed her eyes on her subject, and entreated the older woman with unscripted intensity: "If you could tell me one thing to carry with me for the rest of my life, what would it be?"
"Don't think that other people are better than you," the African American grandmother in the wide-brimmed hat replied. "I've never thought that, old as I am. We're all human."
The children's questions ranged from, "Did you ever feel sad or lonely?" and "How is the world different from when you were growing up?" to "How would you like to be remembered?" "What was it like for you during the civil rights movement?" and "Can you describe your mother in her favorite dress?"
The students learned about forgiveness and perseverance from John and Vivian Parker who had lived in the neighborhood for 50 years. The Parkers were the second African American family on their block, a predominantly Scandinavian neighborhood. At first, neighbors would not allow their children to play with the Parker children. When asked about this, the Parkers replied, "We got over that." As the years went by, John, a pastor, performed weddings and funerals for neighbors who had once shunned him.
"Grandfather" Leonard Smith told stories of how, in the 1980s, with the help of the Mayor and the Portland Police Department, Boise began to turn the tide on gang violence (which continues to blight other areas of Portland). "It's your future," Grandfather exhorted the young people, reminding them how important they were.
Louise Grogan, 72, who attended Boise-Eliot Elementary in the 1950s, inspired her third-grade interviewer with dignity and confidence. As a teenager, Louise had been told, "Negroes could not be hired as flight attendants." But Louise went on to secure a job with United Airlines and travel the world. "What has changed is that people have realized that when I bleed, it's red just like yours, and when I love, it's the same kind of love," Louise told the third-grader. "And God—he loves us all. You understand? We're all one."
Apricot said she was struck by the fact that so many of the elders had experienced profound indignity and yet refused to carry resentment.
"The stories they shared were truthful, but they were not bitter. I suspect it was because they were telling the stories to kids," Apricot says. "When we tell stories to children, we want to preserve a grain of hope. It was as if the elders said, 'Here is my story. It hurt me when it happened. But it doesn't have to hurt you too. You will have enough pain of your own to carry, but I want you to understand that it is possible to go through something very difficult without letting it destroy you.'"
The Boise Voices project was completed in just six months: a website built, 1,000 CDs produced. Meanwhile, 24 children gained hands-on experience as interviewers, and the wisdom of 13 community elders was recorded for future generations. In 2010, Mayor Sam Adams invited Boise Voices to a special reception at City Hall, complete with black and white portraits of the elders and children by photographer Julie Keefe of Hello, Neighbor.
I asked Apricot about the connection between her faith and this project. She explained that Boise Voices was not a religious undertaking but rather a neighborhood collaboration. "At the time I started this project, we had just moved back to Portland, and every time we visited a new church, I left angry," Apricot explained. "In my neighborhood, I found people who loved their neighbors without asking anything in return. Some of the people that I met through this project were active members of their church or mosque. But I learned just as much from the people who were suspicious of empty religion.
"As a missionary kid, Christianity is my heritage. The church makes me crazy most of the time, but it's obvious that Jesus cared about listening to people." It was neighborhood excitement about collecting and preserving their own unique history and stories that led to funding by community grants and supportive partnerships with local schools, radio stations, and businesses.
Two years later, teachers use the website as a tool to help students learn directly about WWII, the Vanport flood, red-lining, and dance halls. Rich history that would have otherwise been lost has been preserved and bridges have been built between new and old neighbors.
Brandon Rhodes, a member of the Springwater intentional Christian community in the Lent's neighborhood of Portland speaks to the significance of knowing the stories of the place you live.
I didn't know my neighborhood until I listened to its stories. Reading it's economic, religious, and racial data didn't get me very far in finding my place within it, or feeling it in my heart. Facts are static. Stories jolt us with 'the real.' My neighborhood's stories popped into 3D for me as a living place loved by the Lord. My street used to be a marsh, then a race track, then a meadow, then full of meth houses, and now it's filling with families. This legacy grips me. Knowing that my street hasn't always been like this, reminds me that it won't stay this way. My neighborhood's story is open, and Jesus may want to seed it with even better stories.
Today the Boise Voices CDs have all been sold or donated, but Apricot continues to carry these stories deeply. "I became connected to the neighborhood by eavesdropping." She wonders what it would be like to try this in other contexts. Due to digital technology and the Internet, it is possible for all of us to "eavesdrop" on powerful ordinary stories told by powerful ordinary people. It can start with the simple practice of listening to our own neighbors, for goodness' sake.
Kelly Bean is cultivator of Third Saturday, co-planter of Urban Abbey, and founder-director of African Road. A pastor, speaker, writer, mentor, activist, and artist, Kelly is passionate about creating environments that seed deep community with diverse groups. She is writing a book with Baker about church communities, and has written for the City project about women community organizers.
MORE FROM CHRISTIANITY TODAY