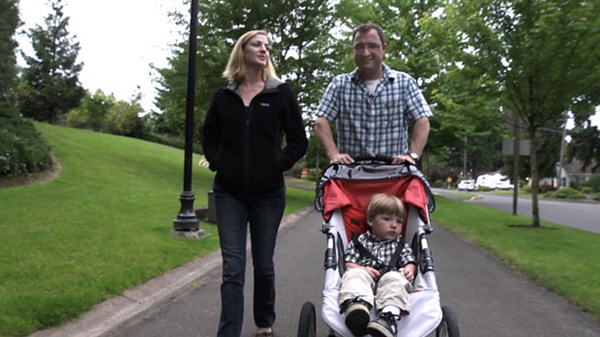 Before Saving the World, Go See Your Family
Shoshon and Stephanie Tama-Sweet on how a healthy marriage sustains their activism.
11.14.11
We were going 3 miles an hour and came around the corner, and there was a gray whale and her baby 30 feet from the boat. They came up and sprayed, and we could see them swimming together. They're checking us out and we're checking them out. You get these moments of, "Wow! God just made this awesome, incredible world," and realizing that is really restorative. Have you ever seen phosphorescence in the water? It's these microalgae that bio luminize; they spark when they're agitated. You can run your hand through the water, and it looks like galaxies of stars are streaming behind your fingers.
So spending time to commune silently with God, or to talk to God, or to sense that God is filling up the world again, is hugely helpful.
Q: You guys seem to have a partnership. There's a sense that you have similar purposes.
Stephanie: The process we had this spring has reminded me and deepened the sense that the most important people in my life are my family. I feel like both of us are called to ministry in the broad sense, but our family comes before that. You actually can't even do ministry well unless you're taking care of things at home. I feel incredibly blessed to have Shoshon as a partner in life, from having fun together to doing our work together in the world. I certainly couldn't do it at the same capacity without having a partner who understands and supports and prays with and puts up with me.
I just finished a short book by Henri Nouwen. He talks about how God sent people out two by two. He could have sent them out one by one, and obviously God called lots of individuals to ministry. But in general, he sent people out two by two. You can conquer so much more, do so much more, love so much more, when you have somebody who's partnering with you.
I feel that way about Ben and our coming child, too, that we're all part of it together.
Shoshon: It's just something that works out for our family.
MORE FROM CHRISTIANITY TODAY