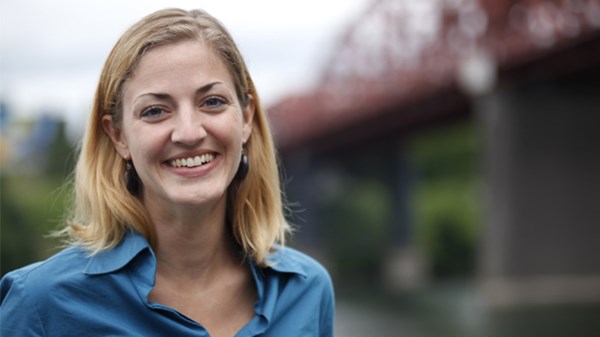 Christian or Lobbyist? Yes!
As a lobbyist in Oregon, Stephanie Tama-Sweet believes that politics can't be black and white.
10.20.11
Lobby and compromise. Two loaded words when it comes to politics, yet they describe much of the work that Stephanie Tama-Sweet does as a lobbyist in the nonprofit health care industry in the Oregon state capital. CT video producer Nathan Clarke sat down with Tama-Sweet, 31, in Portland to ask what it's like to be a follower of Jesus working for the flourishing of greater Portland through an industry rife with vested interests and doublespeak.
Q. What do you do as a lobbyist?
The work I do is primarily focused on health areas, so creating healthier communities and healthier people. Also I focus on low income people, so getting better access to health care for low income people, and getting better housing and food access for low income people.
You're communicating your issue and the priorities of your client to an elected official and trying to win them over to your interests. Essentially, you are a communicator, but you're also working on marketing and relationships.
Q. Why did you decide to become a lobbyist?
In 2009, Oregon passed landmark legislation that expanded health coverage to 80,000 children and 50,000 low-income adults. Prior to the bill, Oregon had one of the highest rates of uninsured children in the nation, at about 12 percent. As a Christian, I was drawn to the issue because of the clear value Jesus placed on the physical, mental and spiritual well-being of people (my favorite verse is John 10:10). I have also personally experienced the stress of not having health insurance and know that the cost can be extremely high - too high for many people - to pay out-of-pocket. Lack of insurance can be a major cause of stress for families, often forcing people to seek emergency medical help which is costly and drives up the price of health insurance for everyone in the system.
I believe my work is furthering the work of Christ in the community because I'm helping to bring about structural change that influences real peoples' lives and helps them live the life that God intended for them, to help set up a more beloved community.
MORE FROM CHRISTIANITY TODAY