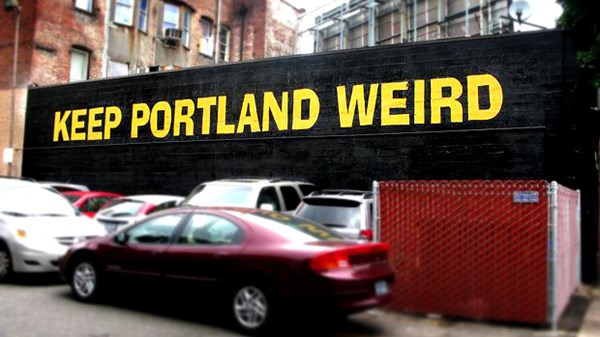 What the Gospel Means for Portland
What Christ might say to the City of Roses.
10.20.11
So, what things are outstanding? This leads me to the second challenge. Building entrepreneurial partnerships for the common good in view of our uncommon God is good. But we have a long way to go in terms of moving beyond charity. We need to build community with the poor. Jesus loves us microbrew-drinking, gourmet-coffee-roasting, organic-food-eating yuppies and fixed gear-biking, skinny-jean-wearing hipsters. He loves everyone else, too. How intentional are we Christians and Portlanders in making sure everyone else has a place in Jesus' favorite city? We need to challenge Negro removal, and also identify more with women in their oppression and children sold to the highest bidder. Although liberal, Portland's seemingly not liberal or free enough to safeguard against human exploitation.
Will we allow ourselves to be exploited for the least's sake? We'll have to move beyond accessing the brightest and best "ideas for the common good" and live among brokenhearted lives. We need to enter into such solidarity with the marginalized, so that if they go down, we go down with them. As we identify with people broken by systemic evil heart to heart and life on life, they will teach us how great our own need for Jesus really is. The poor often sense their own need for God (Luke 6:20). "Blessed are the poor in spirit" of Matthew's gospel and "Blessed are the poor" in Luke's gospel must always be kept together.
What happens if we Christians challenge Portland in such ways, even while loving Portland? Certainly, we must continue to create space with our lives for the gospel to be heard. Still, what happens if we lose the city's favor? Will we continue loving this city, even if Portland ends up hating us for that sacrificial love?
Paul Louis Metzger is founder and director of The Institute for the Theology of Culture: New Wine, New Wineskins, and professor of theology and culture at Multnomah Biblical Seminary/Multnomah University, in the Montavilla neighborhood of Portland. One of his most recent works is The Gospel of John: When Love Comes to Town. He attends Imago Dei Community in the Buckman neighborhood of Portland, and lives across the river in Vancouver.
MORE FROM CHRISTIANITY TODAY