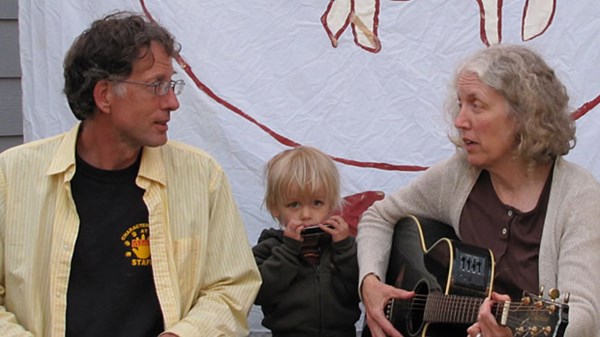 Where Portland Church Planters Fear to Tread
MaryLou and Rusty Bonham, founders of Springwater, commit to the forgotten Lents neighborhood.
11.10.11
Portland's #14 bus from downtown takes you through neighborhoods flooded with all the caricatures of my city that you've heard about: bicycle shops catering to car-free businessmen and soccer-moms, food cart lots brimming with PBR-guzzling hipsters, and finally the trendy Hawthorne arts district. This is the Portland lampooned on TV.
Hawthorne and other "corridors of cool" are also where you find most of the city's church-planters. In age and technological preferences, they're not too different from their non-Christian counterparts in Portland: mostly smartphone-savvy, denominationally financed white men in their 30s.
But if you stay on the #14, past the neighborhoods we love to show out-of-towners, you roll through less tweetable areas. The #14 lands in the dilapidated commercial core of Lents neighborhood, severed down its middle by a six-lane interstate. On the books, Lents' businesses are used RV lots, dive bars, and the odd taqueria. Off the books, it's prostitution and meth dealing. Lents has its bright spots, but in popular sentiment they tend to be eclipsed by its junkyards and junkies.
You don't find too many church planters out here. Better known as Felony Flats, Lents is as forgotten by City Hall as it has been by church-planting networks. Each, I suspect, is hungry to fund efforts in more marketable neighborhoods.
But at Lents' southern margins, some Christians have broken the mold. In 2007, MaryLou and Rusty Bonham, empty-nesters at 54 and 56, moved from Kansas into Lents to plant a church that would, in time, transform a neighborhood with the gospel. "Our hope was to settle in a neighborhood … where we could join with others to practice incarnational love, and discover how Jesus would use this place as our 'school of conversion' into faithful kingdom living,¨ says the silver-haired MaryLou, a full-time counselor. "That meant committing to this place and these people for the long haul."
But why Lents? "We wanted to go where the cops are afraid to go," said Rusty. It turned out there aren't many places like that in Portland, a city with gangs but few ghettos. "All the same," adds Rusty, "the Bible says we meet Jesus in the marginalized. And Lents is definitely marginalized! Hopefully we didn't have too much of a messiah complex in choosing this place."
To guard against that messianism, as well as becoming a strictly needs-meeting church—which the Bonhams believe often exchanges hand-outs for the dignity of the poor—they grounded their hopes in a community development model called asset-based community development (ABCD), which strives to heal neighborhoods with as much of the area's own dormant strengths as possible. Rusty and MaryLou first learned ABCD through Clark Blakeman, founder and director of Portland-based nonprofit Second Stories. The faith-based community development group works with Pacific Northwest churches and other nonprofits to teach holistic and incarnational mission. "Embedding in a community as listeners and learners for an extended/indefinite time in order to establish and build true relationships … is solid ABCD work," says Blakeman. In adopting many of ABCD's values, Rusty and MaryLou hoped to plant a church neither cavalierly confident nor a catalyst for gentrification. Clark says, "This is contrary to more typical church approaches, [which usually involve] coming in and creating programs to meet shallowly perceived needs."
In 2008, the Bonhams and 15 other believers (including myself) moved into one corner of Lents as a church, Springwater. Along with shared practices of devotion and simplicity, Springwater households organize monthly neighborhood service events. That could mean a kid's bicycle repair day, a BBQ block party, digging a garden for a neighbor, or springing "wacky water days" in the park.
Some Springwater members have worried that such projects aren't consistent with ABCD and won't structurally change the neighborhood. This spring, however, occasioned a shift in how neighbors participate in these events. Rusty rallied neighboring carpenters and some homeless friends to build and install nine sandboxes for toddlers on the block. "Watching the boxes being assembled," MaryLou remarked, "I was amazed at what an odd picture of the kingdom was being painted before us. You've got pacifist Christians working with veterans and homeless folks next to professionals, all helping install these playthings for these kids, these least of these."
Not all of Springwater's neighbors have welcomed them eagerly. The Bonhams, their daughter, son-in-law, and grandson were administered a loud death threat by one troubled fellow for befriending some of the homeless people. " 'This is my neighborhood, not you people's. I'll slit your throats!' is what he yelled," Rusty recalls.
How to respond? "Pie diplomacy," suggested by another neighbor: The Bonhams brought the young man's family a home-baked pie and extended a desire to listen to their concerns. The family accepted the pie, and has since helped out at several block parties, working alongside the Bonhams to raise money for a local homeless shelter.
This ministry of reconciliation in a crime-torn neighborhood has emerged as something like Springwater's charism. "When you live in a world splintering into a thousand factions, you need some glue, not scissors," says Paul Sparks, co-founder of the Parish Collective, a loose network of place-based churches and practitioners in the Pacific Northwest. "Glue-ish groups like Springwater are a delightful slow surprise to a broken neighborhood. By … learning how to rely on God for listening and love, they demonstrate that it may be possible for neighbors to fit together for mutual flourishing instead of fighting and fleeing from one another."
Reconciliation is not just something Springwater does between neighbors. MaryLou says, "Being this kind of people can only happen as we are actively practicing reconciliation with God and between one another. We'll burn out, bury wounds, and won't make it long in Lents if we can't give and receive forgiveness as God's family." Thus, Springwater spends much of its Bible study, prayer, and teaching on themes such as inner healing, forgiveness, and mutual discernment.
"If we can't find a way for God's peace and justice to show up among us goofballs," Rusty says, "how can we presume to be able to be God's agents of peace and justice in Lents?"
Here, at the end of the line #14 bus, urban faithfulness is far more mundane than the savvy, conference-friendly ideas I usually see from church planters.
Perhaps this glorious mundane is the true challenge and opportunity that church planters like the Bonhams offer others. Perhaps the future of the church has less to do with ancient-future technique and postmodern turgidity, and has far more to do with families joining the homeless to give away sandboxes to neighbor kids.
Brandon Rhodes is the husband of Candice and a doctoral student at George Fox Evangelical Seminary, where he is studying the impacts of automobility on North American churches. Brandon is applying this research as a Grassroots Storyteller and Field Guide with the Parish Collective.
MORE FROM CHRISTIANITY TODAY