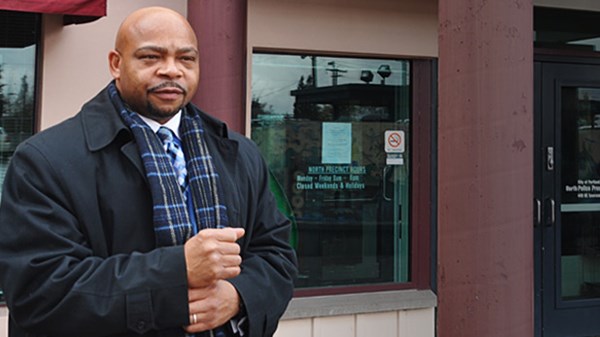 100 Men Standing against Portland's Gangs
John Canda believes the best way to curb gang violence is to ask adults—especially men—simply to show up.
11.30.11
Rob Ingram, once director of the Office of Youth Violence Prevention, who died Sunday of a heart attack at age 38, said, "This is an all-out war. This isn't a place for humming hymns and picking lilies."
Canda hasn't been picking lilies, but he did do some picketing. He thinks the key to keeping vulnerable kids out of gangs is to ask concerned adults—especially men—to simply show up. In 2009, after a rise in gang-related activities and gun violence, Canda put out a call by holding up a sign that read "Where are the Fathers?" for two weeks on the corner of Martin Luther King Jr. Boulevard and Killingsworth in NE Portland.
"That took guts," said Ingram. "John did something really aggressive. People criticized him for that."
Ingram, an African American believer who left behind a wife and five children, had been involved in driving out Portland's gang violence since the early '90s. He said the issue "will mold you, shape you, and shake you."
Canda views the gang issue as an African American issue in the community, one rooted in the absence of men in children's lives. In other words, it's about men not showing up.
"About 90 percent of these young boys and girls have no dads. They did not have men around them to model or teach them behaviors," Canda notes.
In April 2011, after another gang-related shooting near Lloyd Center, Canda organized a meeting for concerned community leaders. From that meeting emerged Connected.
"My original goal was to find 100 men to engage young people who are robbing and stealing. I was looking for people connected with their church bodies," Canda explained, noting that they have 30 to 40 regular Connected members, including women. "The main goal is to take our faith that has been developed wherever we worship out into the community to have a presence that is more than physical."
MORE FROM CHRISTIANITY TODAY