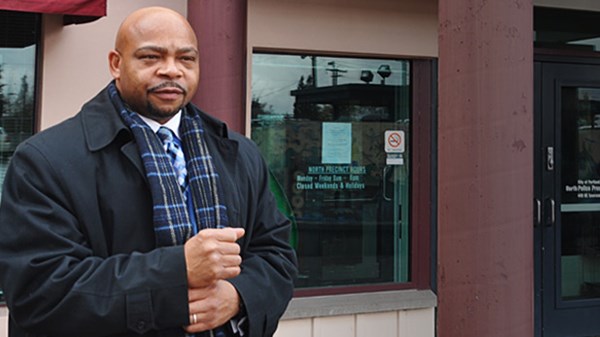 100 Men Standing against Portland's Gangs
John Canda believes the best way to curb gang violence is to ask adults—especially men—simply to show up.
11.30.11
Canda's Ministry of Place. Or presence.
Tom Peavey has worked for 31 years as a Portland police officer before becoming policy manager in the Office of Youth Violence Prevention. "The important questions we need to be asking, John's been asking for a long time," he said. "He's been asking questions about the need for involvement and the repairing of lives caused by gangs. John's been asking the faith-based communities and businesses and the public sphere."
That message of involvement has resonated with members of Connected, as they've convened Fridays at 4:30 p.m. and 6 p.m. Peavey said that just their presence connecting with people has impacted the area.
"The mayor's office, we love it, the businesses love it. The collaboration that John and others have helped foster between the faith community, the city police, and the schools is amazing."
At a recent Gang Violence Task Force meeting led by Ingram, Canda's insight was repeatedly sought after; I heard, "John, what do you think about that?" more than once. Alongside Portland Mayor Sam Adams, Canda spoke to local media this September after a major gang shooting that injured six men ages 13 to 16.
J. W. Matt Hennessee, pastor of Vancouver Avenue First Baptist Church, where Canda grew up attending, heard Canda speak at the April gathering on gang violence.
"I saw the photos of the memorial service folders of the dead kids, and I heard John speak on how we men have to own the parks," Hennessee said. "The message I heard was that African American men need to show up and let kids know we care.
"People talk about needing another program, but John said we need to go now, move," said Hennessee.
MORE FROM CHRISTIANITY TODAY