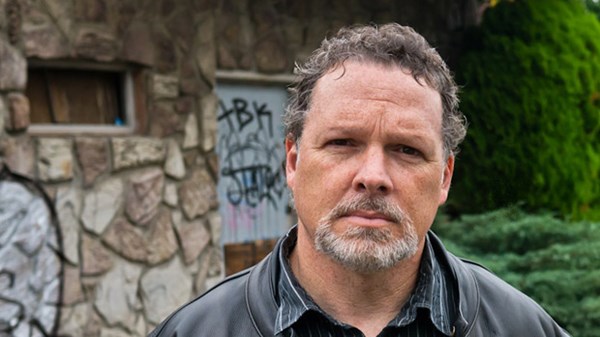 Enlisting Men in the Sex Trafficking Fight
Tom Perez, founder of Portland nonprofit EPIK, believes men have created the problem—and better men have to stop it.
10.20.11
Until one Saturday morning two years ago, Tom Perez never thought that the trafficking that characterizes places like Bangkok and Amsterdam would show up in his own city.
He was at a breakfast hosted by Shared Hope International. As the anti-trafficking organization's founder, Linda Smith, began talking about the domestic problem of trafficking, Perez realized that the pristine City of Roses he'd lived in for 20 years had an unthinkable thorn. Portland, Oregon, had become a prime location for an industry that was prostituting at least 100,000 minors each year.
As Perez, 51, listened to stories of how minors were bought and sold as sex slaves, he thought of his three sisters and three daughters. "My protective nature came out," he said. "You just don't do that to a girl." When the breakfast ended, he approached Smith in the hallway. "She was trying to leave to catch a plane, but I kept saying, 'Tell me what to do. Let me in this fight.'"
Their conversation led Perez to two years of talks with Shared Hope and other Portland groups, including Door to Grace, a Christian ministry that provides safe housing , counseling, and job training to rescued girls, and the Sexual Assault Resource Center (SARC), Portland's oldest assault advocacy group, which provides physical and emotional support to victims.
Perez concluded that the biggest need was to get men to combat sex trafficking from the demand side, and to financially support organizations that were already in the trenches.
In January 2011, Perez launched EPIK ("Everyman Protecting Innocent Kids") with the ambitious but simple goal of recruiting 100,000 men in the United States—"one man for every victim"—to stand against the sex trafficking of minors.
After the 6'2" football player-turned-pastor resigned his full-time job and committed with his wife to live on her schoolteacher's income, his first question was, How do I engage in the anti-trafficking movement when my demographic is exactly the one that's creating the demand for the industry?
Perez believes men are largely responsible for the market that drives child trafficking, so they couldn't be the ones to directly rescue victims. Instead, he began to call men to be anonymous heroes who would support women and their organizations working on the front lines. "If we do this right, the kids whose lives we're affecting will never know our names, and they'll never see our faces," he said.
He acknowledged this seldom-recognized role is difficult for men to assume; many would rather take part in a dramatic rescue than stand supportively in the shadows.
But Perez says his vision is less Braveheart, more The Blind Side. He refers to women on the front lines of rescue efforts as "quarterbacks" and EPIK's recruits as "linemen." He points out that most people don't know linemen's names, but it's important for them to do their job because quarterbacks cannot function if they aren't well-defended.
When they join a team, men commit to giving $13 each month, a figure that symbolizes the average age of girls entering the U.S. sex trade. EPIK provides training that equips team leaders to evaluate anti-trafficking efforts in their area, and make an informed decision about where their team's money goes each month. Perez borrowed this model from the international micro-lending movement, which has successfully funneled a significant amount of money in little doses to small business start-ups worldwide.
The first step in Perez's playbook is to recruit teams of 100 men from 10 churches in the Portland metro area to leverage what he describes as a little bit of their resources and a lot of their influence.
John Chapman, a Portland-area police officer, joined EPIK after encountering the problem of sex trafficking in his professional life. He was involved in an FBI sting in 2009 that arrested several johns and rescued the girls who were being prostituted. "Until that time, I thought sex trafficking was something that happened in bigger cities," said Chapman, 53. "I had no idea it was happening here."
After Perez has recruited 1,000 men like Chapman throughout Portland, he hopes to expand the model to churches throughout the country—especially from cities on the I-5 Corridor, the busiest sex-trafficking route in the country that runs down the West Coast—until 100,000 men are carrying out EPIK's mission. He estimates that in one year, 1,000 men could raise more than $150,000 that would go to organizations that research sex trade markets, identify trafficking patterns, expose sellers and buyers, rescue victims, and help restore rescued girls to safe, productive lives.
According to Chapman, this strategic support is one of EPIK's most important tasks. "It's all about showing God's grace to these girls," he said. "It's about restoring them, making them whole again."
While the teams' monthly contributions are donated to anti-trafficking organizations, Perez is raising separate resources to cover the cost of EPIK's infrastructure and technology platform. Earlier this year he received a $20,000 grant from his church, Imago Dei Community, to get that aspect of the ministry started.
Ken Weigel, pastor of ministry development at Imago, said that "it's the largest missional grant we've ever funded, and people actually wanted to give more." Serving on the advisory boards of several anti-trafficking agencies, Weigel said he sees a great disparity in the fight against the sex trade, where mostly female-driven organizations are combating a mostly male-driven problem. "EPIK calls godly men to stand in that gap," he said.
Perez acknowledges that at first the Imago grant sounded like a lot of money. But when the donation was nearly gone after he built a website and produced a five-minute promotional video, he realized how much more financial support he would need to keep the movement going. "We're fighting an industry that makes $97 billion a year globally and doesn't pay taxes. Twenty-thousand dollars is like the change in their couches."
Perez sees even the logistics of EPIK as a way of redeeming what sin has perverted. "It used to be, you could tell where the prostitutes were by looking for the red light," he said. "Now it's all online." Calling the Internet "the brothel of the 21st century," Perez said, "pimps are using technology to enslave kids. I want to use the same technology to free them."
He hopes to build an interactive social networking site that will aid EPIK's members in keeping their commitment to change "the pornification process" that happens when boys are saturated with images that desensitize them to pornography's harmful effects, and trains young girls to think that being objectified is "just how it works." Perez sees this harmful process happening inside and outside the church.
Weigel agrees. He acknowledges that while many Christian men are incensed when they learn about the problem, it's important to realize, "I'm not just angry at these abusers; I'm angry at the sin in me," he said. Men in EPIK need to acknowledge that "Christ's redemption is not just for the bad guys; it's for me."
Perez hopes that a 100,000 men will provide "moral traction" to address the culture that's creating victims. "Unless the demand for prostituted kids is reduced or eliminated, the best we can hope for is to get good at treating victims," he noted.
"Men have created this problem," he said. "Better men have to solve it."
Sarah Thebarge lives and practices medicine in Portland, Oregon. She writes at My Tropic of Cancer, the Burnside Writers Collective, and Her.meneutics.
MORE FROM CHRISTIANITY TODAY