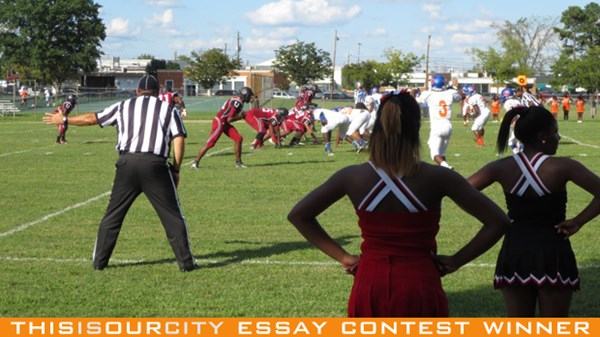 Friday Night Football for the Glory of God
How a local team's success has altered Richmond's future.
9.30.13
Hornik says his main goal is teaching the students to have respect—for each other, coaches, teachers, and opponents. As he demands respect from his players, he says, "We're able to get out of them much more than they ever thought possible."
In the first week of the 2012 season, the Vikings broke their five-year losing streak. After the season, Colonial District coaches named Hornik 2012 Coach of the Year. He deflects the honor. "I'm the first coach ever to receive this award for winning one game all year! We will not be celebrating next year, unless we win a whole lot more games." His email signature reads, "BUILDING … Respect - Academics - Strength - Power - Speed - CHAMPIONS - 2013."
The boys seem to be buying what Hornik is selling. More than 70 showed up for spring training this year. The Vikings started this season with two wins, including a 47-6 victory in their season opener. That was the most points scored by a TJ team since the 1970s.
As they approached spring training last year, TJ had more players but outdated facilities. Hornik began searching for a practice facility, when he got a call from a board member of U-Turn Sports Performance Academy.
It just happens that U-Turn's state-of-the-art athletic facility sits in Midtown, less than two miles from TJ. U-Turn's mission is to make its gym available to the needy throughout Richmond, thereby working to reconcile and unite the community. So, the board member asked: Would Hornik want his bring his team to U-Turn?
For almost 20 years, U-Turn has trained youth for Christian lives of love, purpose, and service, attracting kids from widely diverse racial, faith, and income backgrounds. "Serving TJ's team was right in our sweet spot," says U-Turn executive director Avi Hopkins, a former star high school and college running back. "We believe that sports provide a uniquely influential platform for sharing Christ with youth."
MORE FROM CHRISTIANITY TODAY