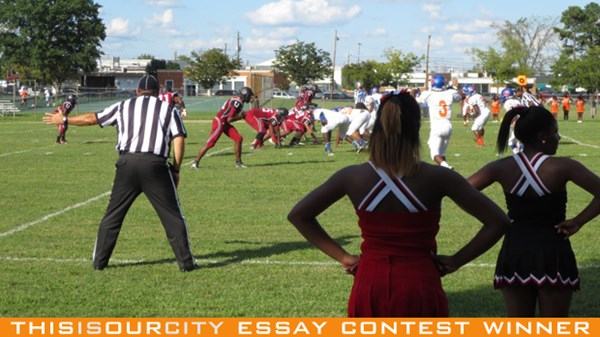 Friday Night Football for the Glory of God
How a local team's success has altered Richmond's future.
9.30.13
Not Another 'Blind Side'
Like most ministries, U-Turn is financially strapped and couldn't afford to hire a private trainer to work with TJ's team. But many phone calls, a few lunch meetings, and several months later, the financing fell into place.
A local businessman had been praying about how to spend his extra time and money. He told friends that he wanted to do more than write checks or give at auctions. As a former major college linebacker, he understood the central role of sports in young adults' lives. When asked by U-Turn to help, he offered to pay for a specialized trainer and has supported TJ since then. Now, TJ is receiving the same kind of first-class speed and agility training that's available at the wealthier schools.
At an early August practice, one coach noticed one of his players had a bandage on his leg. He asked the boy how he'd been injured, and learned that it was from a gunshot wound.
David Brooks claims that improvement on the playing field will also foster more vibrant bands, clubs, and student government. Hornik sees that potential at TJ, where he dramatically raised the GPA eligibility requirement. TJ's principal is a key ally, and together they are rallying alumni, parents, and neighbors to support the school. "People have come out of the woodwork," Hornik says. Already, donors have stepped forward to build a showpiece locker room.
You could write off the changes at TJ as another feel-good sports story, another The Blind Side or Christian rendition of Friday Night Lights. But you would be wrong. Rather, the unfolding story at TJ shows city-loving Christians responding in intentional, real-world ways to pressing needs and deprivation. By serving TJ, these Christians are seeking to promote the prosperity of the surrounding community and the Richmond region, because that's the Jeremiah 29:7 mandate. This story is about teamwork, and not just on the football field. It's mostly a story of Christians teaming with individuals and organizations to serve the city to which they are called.
Fritz Kling is a foundation executive, consultant, and author of The Meeting of the Waters: 7 Global Currents That Will Propel the Future Church (Cook).
MORE FROM CHRISTIANITY TODAY