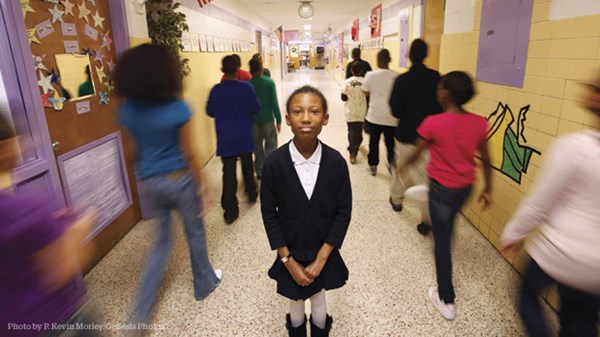 The New School Choice Agenda
Why Christians in Richmond, Virginia, and elsewhere are choosing to send their children to struggling public schools.
4.9.12
When Cheryl Burke first walked into the dark lobby of Chimborazo Elementary School, where she had just been appointed principal, she noted the distinct smell of urine. Outside, the playground was littered with "40s," large empty beer bottles, and crack cocaine was stashed in one of the bathrooms. "I just cried," says Burke, recalling that day in 1996.
Sixteen years later, the brightly lit lobby sports two armchairs and a coffee table. Where black asphalt once surrounded the buildings, there is now green grass. Sterile white cinder-block hallways now vibrate with colorful stripes of paint. Over the years, "Miz Burke," as she is known to staff, parents, and students alike, convinced the local faith community to pray for the school, raise funds, and counsel and tutor students. Chimborazo's scores on the state Standard of Learning exam have climbed, and now the number of students declared "proficient" in math and reading hovers around 60 percent.
Still, 88 percent of Chimborazo's students are so poor they receive free or reduced-price lunches; with that poverty comes a litany of challenges for the PK-5 school. As bright and beautiful as Burke has made it, Chimborazo reflects its local community, with all its hurts and all its possibilities.
Many Americans, including many Christians, do not consider urban schools like Chimborazo good enough for their children. Despite federal programs such as George Bush's No Child Left Behind and the Obama administration's Race to the Top, American students still struggle to achieve basic academic goals. The nonpartisan Broad Foundation for Education reports that 68 percent of American 8th graders can't read at their grade level, and most will never catch up. Nationally, 70 percent of students graduate from high school, and only 50 percent of African American and Latino students graduate on time.
But in recent years, a growing number of Christians across the country have felt called to take up the educational challenge in their own communities. In many of those communities, including Richmond, Virginia, the tide seems to be turning.
MORE FROM CHRISTIANITY TODAY