Embracing Dark Nights of the Soul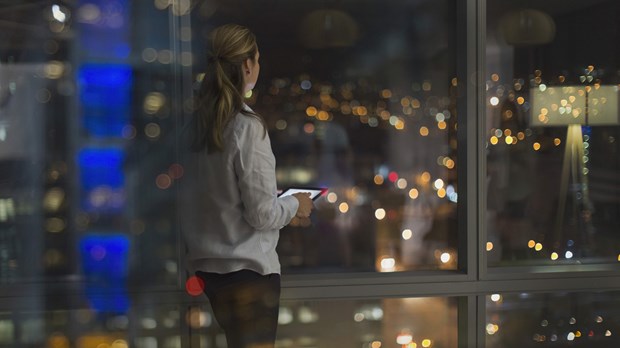 In his book, Dark Nights of the Soul, Thomas Moore speaks of both the mystery and necessity of the soul's darkness. I don't know about you, but my usual response to the dark is to switch on the biggest spotlight I can find. Yet, Moore reminds us that a life worth living (defined here as one that is changing ever more into the likeness of Christ) is full of barely-lit places. True transformation is nothing less than a deep alchemy, taking place in dim and murky places.
Read only a few of the Psalms, and you see this theme played out: Disorientation and doubt are gestational to faith. We may think that the certainty displayed in "leading the throng to God's house" is the quintessential picture of conviction. But consider the trust displayed by the downcast and disturbed soul. Enveloped in a seemingly infinite expanse of questions, the uncertain pilgrim stretches forward to know and to see beyond herself. Beyond knowing. Beyond sight. Beyond the tangible. Just as darkness is the womb of being, so it is the beginning of faith. "Faith is the substance of things hoped for, the evidence of things not seen" (Hebrews 11:1).
There is a tendency to view spiritual "eclipses" as depression - a kind of moodiness about God that rises and falls with whatever is happening (or not happening). But Moore speaks about something deeper that occurs when we question God and God's activity (or seeming lack thereof). It's as if we become aliens to ourselves. We don't just feel sad or upset about life; we feel completely dislocated inside the familiar. We go through the motions of job, ministry, family activities, and relationships. Almost "out of body," we observe ourselves doing life as we've always done it. Yet now, there is another self in the mix; another persona so far removed from who we have been, we shudder at the disconnect. We wonder what others would think of us if we said what we were really thinking.
You may be in a period of deep questioning right now. A new year is beginning. Perhaps your children are going to be starting school soon. The summer wasn't near what it could have been, that dream of family closeness never achieved. Perhaps you will be changing jobs or ministry positions. Yet, what should be a time of adventure - of new possibilities - feels oddly leaden and life-less. Maybe you're in the same old place - in your job, your marriage, as a single parent, or as a single human. The routine has become deafening and stifling, just as God is becoming more distant and unreachable.