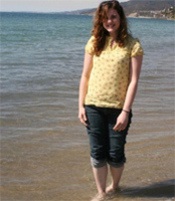 Bonnie McMaken has a passion for serving the church, especially through the ministry of worship. She is one of the worship leaders at an evangelical Anglican church in the suburbs of Chicago and is deeply committed to the study and practice of worship as spiritual discipline and celebration for individuals and the church body.
Bonnie has also written for our sister site, ChristianBibleStudies.com and Smallgroups.com. Several of Bonnie's worship recordings can be found on Smallgroups.com as well.
Bonnie graduated from Wheaton College with a BA in Christian Formation and Ministry. In her free time, she enjoys writing and playing music with her husband, Trevor. Their first album is now available. Bonnie and Trevor have two children.
Read Bonnie's Gifted for Leadership articles:
– "Merry...Advent?" (December 2, 2008)
– "Sometimes We Do Get It Right" (May 12, 2009)
– "Fame's Folly" (September 18, 2009)