Caryn Rivadeneira
Get to know Caryn Rivadeneira, one of our Gifted for Leadership editors and a regular contributor.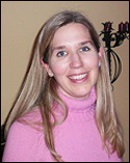 Caryn Rivadeneira is an writer, editor, and speaker. Her first book, Mama's Got a Fake I.D.: How to Reveal the Real You Behind All That Mom, hit the shelves in March 2009.
Caryn has worked in Christian publishing for more than 10 years, during which time she has written numerous magazine articles and edited several books on both marriage and family issues. Her tenure includes three stints at Christianity Today International, where she has served as managing editor of Marriage Partnership and Christian Parenting Today magazines, and today as managing editor of Gifted For Leadership.
Caryn lives in the western suburbs of Chicago with her husband, Rafael, and their three kids, one rottweiler, one bunny, and two goldfish. You can visit her own blog at www.carynrivadeneira.com or the blog she shares with Carla Barnhill: The Mommy Revolution.
Read Caryn's Gifted for Leadership articles:
– "Devotional Journey–Day 1" (January 5, 2009)
– "New Year Expectations" (December 30, 2008)
– "Angry at the Wrong People" (October 28, 2008)
– "Leading Like Life is On the Line" (September 30, 2008)
– "Redeeming Women" (September 9, 2008)
– "Ceiling-Shattering Election Season" (August 29, 2008)
– "Needy People" (June 20, 2008)
– "When Men- and Women-Only IS Okay" (June 3, 2008)
– "Is Women- or Men-Only Ever Okay?" (April 29, 2008)
– "Live from Synergy 2008: Emotional Responses from Thinking Women" (April 13, 2008)
– "The Women Out There" (February 26, 2008)
– "Lead as You Are" (January 29, 2008)
– "Disappointed Women, Angry Men" (December 11, 2007)
– "The Gift of Being Real" (November 23, 2007)
– "Let Men Get the Door" (October 26, 2007)
– "Gossips Annonymous" (September 25, 2007)
– "Making Ugly Beautiful" (August 31, 2007)
– "Bringing Harry Potter to Church" (July 23, 2007)
– "Following the Leader" (July 3, 2007)
– "Leading with Low Expectations" (May 14, 2007)
– "Identity Crisis" (April 27, 2007)
– "Healed to Lead" (March 9, 2007)
– "Witnessing from Weakness at Work" (February 5, 2007)
– "Gifts, not Guilt" (January 16, 2007)