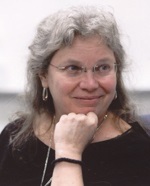 Frederica Mathewes-Green is a wide-ranging author whose work has appeared in such diverse publications as the Washington Post, Christianity Today, Smithsonian, the Los Angeles Times, First Things, Books & Culture, Sojourners, Touchstone, and the Wall Street Journal. She is a regular columnist for the multifaith web magazine Beliefnet.com, and she writes movie reviews for National Review Online. In the past, her commentaries have been heard on National Public Radio's All Things Considered and Morning Edition. Her essays were selected for Best Christian Writingin 2000, 2002, 2004, and 2006. She has published seven books and more than 600 articles.
Frederica has also appeared as a speaker over 400 times, at places like Yale, Harvard, Princeton, Wellesley, Cornell, Calvin, Baylor, and Westmont; at the Smithsonian Institute, the Aspen Institute, Washington National Cathedral, the Los Angeles Times Book Festival, the American Academy of Religion, the Veritas Forum, the Family Research Council, and the National Right to Life Committee.
She has been interviewed on PrimeTime Live, the Diane Rehm Show, the 700 Club, PBS, CNN, NBC, Fox News, and by Time, Newsweek, the New Republic, USA Today, the Chicago Tribune, the Philadelphia Inquirer, and the New York Times.
She lives with her husband, the Rev. Gregory Mathewes-Green, in Baltimore, MD, where he is pastor and she is "Khouria" ("Mother") of the church they founded, Holy Cross Orthodox Church. Their three children are grown and married, and they have seven grandchildren. Since 1997, Frederica has been recording books for the blind with the Radio Reading Network of Maryland.
Photo credit: Mary Taber-Lind.
Read Frederica's Gifted for Leadership articles:
– "Spirituality vs. Jesus" (January 10, 2007)
See Frederica's contributions to our other Christianity Today International resources:
–"Resisting Consumption", an Intersect|Culture video at FaithVisuals.com (Watch this video!)
– "First Things First", an Intersect|Culture video at FaithVisuals.com (Watch this video!)
– "Alone No More", an Intersect|Culture video at FaithVisuals.com (Watch this video!)
– "My Cab Ride with Gloria", Christianity Today magazine (April 2000)
– "The Brave New Case for Chastity", Leadership journal (April 2005)
– "What to Say at a Naked Party", Christianity Today magazine (February 2005)
– "Loving the Storm-Drenched", a Christian Vision Project article
– "I Didn't Mean to Be Rude", Christianity Today magazine (May 1998)
– "Bible Study: How to Repent", a ChristianBibleStudies download
– "Bible Study: Dealing with Suicide", a ChristianBibleStudies download