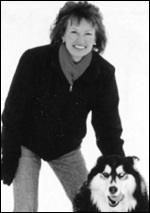 Naomi Gaede-Penner obtained her master's degree in counseling from Denver Seminary in 1991. Since that time, she has taught the career counseling class at Denver Seminary, as well as classes on communication and leadership. She has also been an instructor at Arapahoe Community College in Denver and Alaska University, Kenai Peninsula College extension.
Ministry is innate to Naomi. She grew up alongside missionaries in Alaska, and continues to support a number of missionaries in practical ways. When she moved to Denver, she was a charter member of Belleview Acres Mennonite Brethren Church. Later, she was on staff at Centennial Community Church for seven years. During that time, she served as ministry coordinator, cotaught the newcomer's class, and led the solo women's group. She then returned to Belleview Acres and served on the leadership for two years. She currently attends Parker United Methodist Church.
For over 20 years, Naomi was involved with the Christian Ministries Convention, starting as a workshop leader and moving up to board chair. Her natural fit was as the program chair where she supervised the coordination of more than 200 workshops for the annual convention in Denver.
Naomi is the author of Prescription for Adventure: Bush Pilot Doctor, which contains stories of her father's medical, flying, and hunting emergencies and adventures in Alaska. She has also written The Three Boys, which is a collection of humorous family stories. Her most recent book is Prescription for Finding Home in Alaska, which describes her journey as a child from Kansas to find home against the backdrop of the Last Frontier. She has also written numerous articles.
Naomi resides in Parker, Colorado, but actively maintains ties to the Gaede-Eighty family homestead in Alaska. For fun, she rollerblades, hikes, skis, collects words - and nearly every Saturday bakes cinnamon rolls! She loves a good hamburger, listens to Tim McGraw and Toby Keith, and can't imagine living without a piece of land.
Read Naomi's Gifted for Leadership articles:
– "Designed for Diversity" (January 22, 2007)
See Naomi's contributions to our other Christianity Today International resources:
– "Ministries Among Today's Women", Leadership journal (January 1991)
– "Sermon Variations that Made an Impression", Leadership journal (April 1990)
– "Natural Birth for New Ministries", a BuildingChurchLeaders article (Spring 1988)