Sarah Sumner
Get to know Dr. Sarah Sumner, one of our Gifted for Leadership editorial advisors.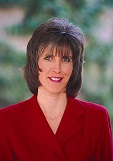 Sarah Sumner is Dean of A.W. Tozer Theological Seminary. She is also an instructor for classes here and resides in Redding, CA. She is also an aerobics instructor at Goa Wellness Center. She's been married to Jim Sumner for 10 years. Sarah and Jim are in the process of adopting a little girl.
Sarah has earned four degrees, including a BA from Baylor University, an MA from Wheaton College, an MBA from Azusa Pacific University, and a PhD from Trinity International University. Dr. Sumner is the first woman to have earned a PhD in systematic theology from Trinity Evangelical Divinity School.
Sarah's books include Men and Women in the Church: Building Consensus on Christian Leadership (which is now in its fourth printing), and Leadership Above the Line. Her third book, Just How Married Do You Want to Be? is scheduled for release in January 2008.
To learn more about Sarah and her book Leadership Above the Line, visit www.leadershipabovetheline.com.
Read Sarah's Gifted for Leadership articles:
– "Talking to Men" (October 22, 2007)
– "The Way of Wisdom: Truth of Womanhood" (September 14, 2007)
– "The Black Hole of Fear" (August 10, 2007)
– "Character Leading" (January 9, 2007)
See Sarah's contributions to our other Christianity Today International resources:
– "The Mixed Gender Team", Leadership journal (January 2006)
– "Bridging the Ephesians 5 Divide", Christianity Today magazine (November 2005)
– "Practical Ministry Skills: Working with the Opposite Sex", a BuildingChurchLeaders download