October 2008
A few years back, our local Christian radio station ran a poll asking whether Halloween is spiritually harmful. The response from a predominantly evangelical audience here in Ohio was two-to-one against Halloween. This did not surprise me. It is now popular in some Christian circles to repudiate any celebration of All Hallows Eve - Halloween.
On the calendar of events ...
continue reading
---
Get to know Janelle Alberts, one of our Gifted for Leadership regular contributors.
Janelle Alberts is a freelance PR and media relations specialist and has managed communication needs for various clients such as Microsoft, Wells Fargo and UPS. She started her first religious column in 2010 for the Akron Beacon Journal called "The Bible Book Club" and has since written for Atlanta Parent Magazine, Christianity Today's women's online sections and Catholic ...
continue reading
---
Last week a former colleague from my first job out of college (I'll call him Bob) found me on Facebook. Within moments of accepting his friend request, we were leaving jokey notes on each others' pictures and status updates. It was so fun to reconnect with someone I had once shared so many laughs at work.
But then he noticed a picture of my husband standing next ...
continue reading
---
Integrity doesn't often come up in conversations about women in leadership - have you ever head the phrase "A Woman of Integrity"? Me either. Maybe it's because we just assume women are honest and morally upright. Or maybe we assume men aren't. I don't know. But I do know that gender doesn't have anything to do with the importance of being ...
continue reading
---
Are we missing something in today's relationships with our friends?
I'm beginning to think that women's relationships are not what they use to be. Over the last few weeks, I've had repeated discussions about this. A complete stranger, a new friend I'd just met, and an old friend that I was having dinner with have each brought it up in conversation ...
continue reading
---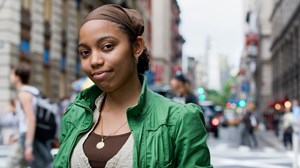 "Speak," I said, as I picked up the phone. No, I wasn't talking to the dog or being rude. That's just the way you answer the phone in Spanish. "Is your Lord and Master there?" asked the cultured voice on the other end of the wire. I froze.
I recognized the voice. It belonged to one of the elders of our church. I wondered whether he was serious or ...
continue reading
---
What can parents do to bring their prodigal back home, literally or figuratively?
With our daughter, we maintained a relationship with her throughout her struggle. I think keeping a connection is an essential part of loving your prodigal child. As difficult as it can be, parents need to stay in contact with that child. Don't cut them off. Show your love for them. That ...
continue reading
---
Editor's note: Dr. Sue Edwards is one of the amazing women we met at Gifted for Leadership's Synergy conference last year. Hope to meet you there this March!
I'm one of three full time women on the faculty at Dallas Theological Seminary and during our weekly faculty meeting, I sometimes struggle to find my voice. I want to be like the woman in Mark 7:24-30 who ...
continue reading
---
"You were so young." That's what most people say when they look at the wedding picture displayed in our living room. And we were young - twenty-three and twenty-two, in a culture where the average age for first marriages is 26.7 years. And to add to that, we had only known each other fourteen months and had never lived in the same state. In hindsight I wonder ...
continue reading
---
When I became a Christian, I knew I'd found my life purpose. I wanted to serve God with my last ounce of strength. I read Christian biographies voraciously and latched onto any report of modern-day Christians who were giving their all to Christ and his kingdom. I often felt that my life was too easy - that I never suffered for Christ as some people did, which to my ...
continue reading