Youth Ministry Myths—the Full Interview
Learning to Learn the Language of the Liberal City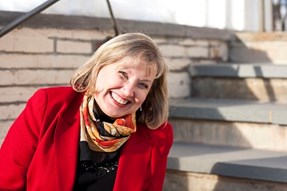 Today we're chatting with Kenda Creasy Dean, Princeton Theological Seminary's Professor of Youth, Church, and Culture. Here this wise guide reveals who lasts in youth ministry, why a youth group might not be necessary, and the particular challenges women face in youth ministry.
Kenda, we'd love to hear about your calling to write and teach. How did you discern it? How has the call unfolded in your life?
I have a colleague who teases me about being an "accidental intellectual"—which is pretty close to the truth. I didn't set out to do anything besides youth ministry. My calling was, and is, to be a pastor, and to be a pastor means to tend a flock. Whether that flock is in a church or a classroom or through the media doesn't really matter to me; it's still ministry, you're still forming disciples, you're still preparing them, as best you can, to go into the world as Christ's envoys.
But eventually tending the flocks God had given me (which invariably included lots of young sheep) grew into helping other people tend their flocks of young sheep as well, which is where teaching and writing came in. When I started my Ph.D. program, I'd never heard of anybody getting a Ph.D. in order to teach youth ministry. Part of that was the era. I started ministry in the late 1980s, when youth ministry was still considered a holding tank for teenagers and immature pastors, who presumably would hang out together in the church basement until both grew up enough for "real" ministry. The resources that existed in youth ministry at the time tended to fall somewhere between harmless and insipid. ("The cherry on the ice cream sundae represents the blood of Christ…") Part of my motivation for getting a Ph.D. was simply to help change people's assumptions about youth ministry. I thought—and I still think—young people deserve theological substance.
I was lucky; I grew up in a small church that didn't have the budget for an "entertainment"-focused youth ministry. For most of my adolescence, our youth leader was a sunburned farmer who, inexplicably, volunteered to walk alongside a bunch of teenagers who were intoxicated by our own self-declared coolness. Trox didn't know a thing about youth ministry. He just knew that he had a bunch of kids on his hands who should be in church. So yes, we had hayrides and retreats, but we were doing preaching and worship leadership and busing tables at ice cream socials and hosting food drives and teaching Bible school and helping to wallpaper the parsonage. In the summer, when Trox was busy with farming, we went to camp, which is how I became involved in my denomination's leadership development program for teenagers.