February 2010
As a worship leader, I'm not always comfortable on stage. I've struggled with this my whole life. Unlike my extroverted husband, I don't like being the life of the party, the one everyone's looking at. I dread the thought of people analyzing whether my skirt matches my tights as I lead them in the worship of our Savior.
To be fair, I'm sure most people ...
continue reading
---
We're tempted to put on a mask, but Lenten ashes tell the truth of our condition.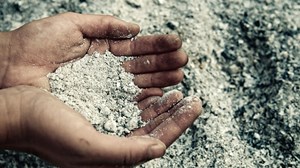 One day, my sixth-grade science teacher announced we were about to begin a secret experiment. She immediately got our attention.
The clandestine study was an analysis of house dust. We would get to scrutinize the stuff under microscopes and find out what it contained. Stealthily, we collected dust samples from various locations in our households; the strict secrecy was necessitated ...
continue reading
---
You would have thought he was in kindergarten: (Hand waving frantically) "Me! Me! Send me!"
Who was this eager emissary? The prophet Isaiah. His story is told in Isaiah 6.
He had just seen the glory of the Lord, fallen on his face bemoaning his unclean lips—and had those same lips seared by an angel with a hot coal! So when God (Father, Son and Spirit) ...
continue reading