Bringing Justice to Bangladesh
How one young leader discovered a piece of God's heart
When Sarah Aulie travelled to India in her mid-20s, she went seeking direction and clarity. Like so many of her post-college peers, she wasn't sure what path her life should take. While she was in India, though, a series of unplanned events unfolded–experiences that changed the course of her life and the lives of women in India and Bangladesh.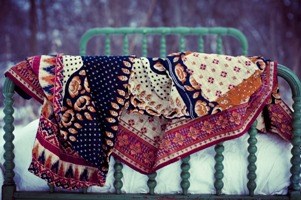 One of those events was visiting a government home for at-risk girls in Calcutta, many of whom had been victims of human trafficking, while others had recently come out of prostitution. That visit gave Sarah a firsthand glimpse into the pain and injustice of human trafficking. As she walked the streets of Calcutta, she wondered why God had brought these strong yet hurting women into her life. Above the bustling din, the only voice she heard was God's—his unmistakable call to do something to help these girls.
At the same time God was opening her eyes to the plight of women in India and Bangladesh, Sarah was also learning about the folkloric tradition of kantha quilting. In kantha quilting, the material from the discarded saris of the rich is used by the poor to make quilts. Drawn to this practical and artful craft, Sarah sensed there would be a market in the U.S. for these beautiful blankets. And this would be a way to provide jobs for her precious new friends. And these jobs would provide an alternative to returning to prostitution after they left the government home when they turned 18.
God was also moving in the heart of Robin Seyfert, a woman who would become Sarah's ministry and business partner in Hand & Cloth. Robin had been working for a relief and development organization in Bangladesh for several years. Robin daily bore witness to the exploitation of women in Bangladesh and felt the call to start a business in Bangladesh where Biblical values could be lived out in the workplace. This year in 2011, Hand & Cloth opened its doors for business in Bangladesh, where 14 women now work each day in dignity and hope.
"God gave me a piece of his heart on this," Sarah says. Today, that piece of God's heart is being woven into every quilt that is created by Hand & Cloth, the social enterprise ministry Sarah founded that provides a living wage and a loving community to women in Bangladesh who are at-risk or have survived prostitution or trafficking.
Sarah received support from her local church to help her get Hand & Cloth off the ground. Prayer was the main catalyst that moved her from awareness to action, and prayer is what continues to propel Hand & Cloth to new levels.
"Nothing happens without a season of prayer," says Sarah. Her family and church are partners she depends on to help her make the hard decisions, and every decision is steeped in a time of community prayer.
Another catalyst that moved Sarah from awareness to action is relationships. Although she doesn't explicitly name this factor, it was her relationship with God through prayer that prompted her to go to Calcutta. Her relationships with the girls in the government home sparked her passion and pragmatism for helping them in their impossible circumstances. Her relationships with her family and church support the work of Hand & Cloth. Her relationships with Christians committed to this mission provides the volunteer skills to maintain and grow a website and network to sell the kantha quilts. And it's the relationships Sarah and her team have forged through prayer with and for the women making the quilts, as well as for those buying them that sustains the ministry. She prays that women in the U.S. and Bangladesh will see Christ as their true hope, the One who truly heals women.
Sarah Aulie didn't set out to launch a new ministry when she went to Calcutta a few years ago. She went in search of God. What she found was a God whose heart beats for the vulnerable and poor women of India and Bangladesh. And he is showing Sarah how to lead the way for justice in that region through simple, yet profound, means, like prayer and relationships.
What about you and the leaders in your church? Where is God giving you—and them—a piece of his heart? What has moved you from awareness to action?
Beatrice Rusu is senior marketing coordinator for Kyria.com and Gifted for Leadership. She is a frequent contributor to the Kyria blog.
Marian V. Liautaud is an editor for Christianity Today's church management resources and GiftedforLeadership.com