Building Bridges through Mentoring
Creating safe places for learning in community, through diversity, and across generations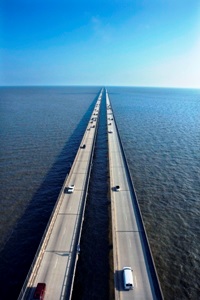 In the weekly reFill column of FullFill Magazine, Anita Lustrea (Moody's Midday Connection broadcast host and author of What Women Tell Me) wrote about women's need for community. In an online survey of over 2,300 women, relationships were among the top three recurring macro-themes. In her article, Anita shared the fears associated with cultivating relationships, the health benefits that can result from having friendships, and the types of friends we all need. "In addition to simply finding friends, however, we need to find safe people to be in community with. Henry Cloud and John Townsend give a great grid in their book Safe People. A safe person, they say, has three characteristics: they draw us closer to God, they draw us closer to others and they draw us closer to our authentic selves." These are the types of safe communities we create in our mentoring groups.
One of our mentors stated: "I don't know why I continue to be amazed at the things God does rather than just expecting that he will do them, but I do, and the mentoring ministry is just another example. It's hard for me to believe that our group has bonded so well in so short a time. One member of our group remarked that she thought God had put together the perfect group for her, and we all agreed."
Building a Community
Prioritizing the community over the individual is where the rubber meets the road when it comes to mentoring and discipleship. The Bible is an Eastern book that values the community (God's chosen people, Israel, and then his elect people, the New Testament church) above the individual. In Western culture, however, and particularly in America, we value individualism and self effort. That's what the American dream is all about. Yet that is not the model for spiritual growth we observe with Jesus, the 12, and his other disciples. This is the main reason we have elected not to move forward with one-on-one mentoring relationships (though we do consider them on a case-by-case basis). My observations through studies of the New Testament show that leaders only isolate themselves from a group for the purposes of prayer, fasting, and rest.
These important realities present huge tensions and challenges when considering the need and importance of making disciples in the postmodern American church. In this culture, we often hear some version of "I will walk with you for a period of time (maybe through a six-week Bible study), but after that, you have to go and figure the rest out on your own. After all, the Bible says we need to work out our own salvation (Philippians 2:12)." The foundation of that message is, "I am only willing to give you a short-term commitment and then I'm going to do more important things with my time." Is that a kingdom mindset? Does that response reflect God's will and his priorities? Maybe it does in the proper context, but certainly this posture cannot be the standard way Christians relate to each other. We need to seriously ask ourselves, "What can be more important in this life than making disciples?" Because I believe large failures of the church are a result of not prioritizing disciple-making.
I certainly don't mean to oversimplify this because I do understand life's demands. I also understand that there are "needy" people and we must be discerning in those particular situations. At the same time, when we accepted Christ and asked him to be Lord of our lives, we made an exchange from living for ourselves to living for God and his glory, which in turn means laying down our lives and our desires for the sake of the gospel and for the sake of God's people. As a Christian, my life is no longer my own. God has work for me to do and that work is not passively showing up to church on Sunday mornings—it requires active engagement in my daily life. I must commit to binding my life to others in compassion and love. Mentoring is a lifelong commitment to this cause.
Diversity and Blessing the Generations
Mentoring stretches us and makes us uncomfortable. Humans are creatures of habit and given our choice, we will do what is most comfortable for us every time. People will regularly gravitate to those with whom they already have something in common. So the moms will hang out with other moms (and the Mothers of Preschoolers get their own special group), young professionals hang out with other young professionals, the widows are over here, single folks are over there, college students in the gym, the elderly…well, you get the picture. In short, the entire church is segregated. That's quite natural behavior. We need to understand, however, that if we are in a church which operates in this manner, we must be more intentional about discipling (across generations from the biblical model as presented above) and building relationships at other opportunities outside of Sunday morning.
Titus 2 communicates the responsibility older and wiser men and women have to teach and train the younger men and women. The Israelites were disobedient and regularly chastised for failing to teach their children as God required (for example, see Deuteronomy 4:2-10). God is a God of generations. Throughout the Bible, God refers to himself as "the God of Abraham, the God of Isaac, and the God of Jacob (Exodus 3:6 and Matthew 22:32)." The writers of the Psalms clearly discussed the blessings that follow those to teach across generations.
"Let this be written for a future generation that a people not yet created may praise the Lord (Psalm 102:18, NIV)."
"But from everlasting to everlasting the Lord's love is with those who fear him, and his righteousness with their children's children—with those who keep his covenant and remember to obey his precepts (Psalm 103:17-18, NIV)."
We mentor across generations so that women of all ages will love God, obey him, praise his name, and teach other men, women, and children they influence to do the same.
One mentee told us after months of mentoring experience, "I came away with many blessings, one of which was being a part of a diverse group of believers. I found it helpful to listen to the views of ladies in other seasons of life than my own at times. I would sometimes benefit from the wisdom of a more mature believer and sometimes it was the fresh eyes of a new disciple that I needed to look through for perspective and understanding."
We keep our blind spots and limit our focus when we only hang out with people who are of like mind and circumstance as us. For this reason, we intentionally diversified our mentoring groups. What does that mean? We offered various mentoring group opportunities at different times and home locations throughout the week. Then we asked potential mentees to prioritize the group meeting times and locations that worked best for their personal schedules. We did not tell them who the mentors were because we did not want them selecting a group based on a personality. (Jesus was the only human being to have the privilege of a "personality-driven" ministry, not us.) We did not tell them what resources we would use for mentoring, because we did not want them to turn away from the opportunity because they had perceptions about a book or its author. (We also did not want them to read the information prematurely.) So in many ways we stretched these women outside their comfort zones.
Throughout this process of forming mentoring groups, the leadership team prayed over the placement of mentees (in the same manner we selected the ministry leaders). We had a sub-team who worked to intentionally diversify the groups. In other words, we purposely placed single women and married women, working professionals and stay-at-home moms, older women and younger women in the same mentoring group. We have women as young as 20something in the same mentoring group as women who are over 60 years old, and both ages are learning from each other and reaping the benefits by focusing on the right priority—Jesus.
Another mentee said, "God has taken a group of ladies from various backgrounds and of various ages, and created an environment where together we can grow closer to him while encouraging each other. What an honor it has been to pray for my sisters in Christ and to see God actively working in their lives."
In what ways do you create a God-honoring community? How do you mentor across generations in your church or community?
Natasha Sistrunk Robinson serves as co-director (along with Nikki Kober) of the Women's Mentoring Ministry at Cornerstone Baptist Church in Greensboro, North Carolina. She is the founder, writer, and speaker for His Glory on Earth Ministries, a member of the Redbud Writers Guild, and a full-time student at Gordon-Conwell Theological Seminary. Connect with Natasha through her blog, Twitter, or Facebook.