Mentoring as Discipleship
Through intentional relationships, everyone learns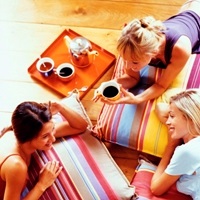 After more than 10 years of teaching the Bible, 14 years of discipling and mentoring women, and launching two women's mentoring ministries, I realized two things are needed for ministry: a clear focus and training. Our women's mentoring ministry provides a focus and intentionally unlike any other church ministry I have witnessed. Throughout a 10-month mentoring season, our groups meet once a month for a period of three hours at each gathering. This gives the women opportune times to complete their required reading, memorize Scripture verses, journal, intercede for their sisters in Christ, and most important, spend quality time with the Lord in personal reflection concerning what it is he is teaching them throughout the month.
I have to be honest with you, not everyone takes advantage of this time. We still have some women who wait until the last minute and cram their "homework" in at the final hour before their group meeting times. Those women have not getting the most out of the experience. On the other hand, there are other women who are doing the hard work, meeting with group members and/or mentors outside of their monthly mentoring gathering, and those women are experiencing life-change. The leaders receive regular testimonies from them, and my ministry partner and I hear feedback from these ladies as well as their parents, friends, and spouses about the amazing work God is doing in their hearts.
We have developed a progressive framework to focus on three key areas: Know and Love God, Know Who You are in Christ Jesus, and Love Our Neighbors. The biblical foundation for this framework is found in the greatest commandments presented by Jesus (Matthew 22:37), the Titus 2 Scripture, and the great commission of Jesus presented in Matthew 28:19-20a. To accompany the mentoring framework, we select book resources to guide personal reflection and group discussions. The resources are quite challenging.
Prior to starting the ministry, several people cautioned, "Women will not be able to handle the material. Don't do anything too difficult; start out with something 'light.' Don't overwhelm women with reading because we are all so very busy already." In today's American culture, women are bombarded with a wealth of information. Likewise, in the Christian context, women are exposed to many "light" resources which cater to our emotions and at best encourage women to apply quick fixes, temporary solutions, and bandages to areas where heart surgery is needed. As a leader, I believe a step in the right direction is encouraging women to change their priorities. This Christian journey is not all about how you or I feel. Once we make God the Father our priority and acknowledge who we are in Christ Jesus, only then can we approach life in a God-honoring way. By and large, this is not the message marketed to women. So we want to challenge them (many who have been in the church all of their lives) to get off milk material and transition to "meat"¬—a sustaining and spiritually nourishing reading diet.
When we ask the women in the ministry to read, we also ask them to take notes about what they have read, we discuss, we journal, we pray, we memorize Scripture, we open our Bibles, we fellowship, we laugh and cry, we journey through life together. Together this ministry builds personal relationships with the Lord and a safe community of female relationships.
One woman in her first year of our mentoring program said, "I gained great encouragement and support in the midst of personal crisis as a result of being part of this mentoring group. How wonderful to be allowed to be open and honest in a confidential setting and to know that the true issues of the heart were bathed in prayer by others. We placed many issues at the foot of the cross and watched God graciously respond. What a blessing!"
One of our mentors told us, "While reading my devotional, I realized how exciting it was to read the verse that was also one of the verses I memorized for mentoring. This does not seem like such a great discovery until I reflect on how difficult it is to memorize as I am older, especially since I was not exposed to the Bible in my younger years. Suddenly, I realized how God is bringing me closer in my walk with him which is what we are all striving for. I always felt in God's eyes, he made me a follower and now I am a leader. He is challenging me in every way through mentoring. I trust you, Jesus, and thank you."
Leading and Ministering in Context
It is of paramount importance that all leaders lead in context. What I mean is, we must know our people and the environment in which we lead. If I were leading in a church of illiterate people, I would certainly take a different approach to mentoring. In my current situation, however, the environment is educated, middle- to upper-middle-class laypeople. The lack of ability is not a problem; the lack of priority is.
Which leads me to a bigger question, How are you going to lead? I am not a person who is motivated to lead out of my fears. In other words, I am not going to take an alternate route from the direction I believe God is leading me simply because I fear others may not like it, will talk about me, drop out of the ministry, and so on. Before launching the ministry, we evaluated our church's culture and the context in which we minister. We decided there are plenty of free devotionals and light reading available on the Internet and in Christian bookstores, which the people in our congregation have access to. I would submit that most Bible-believing and Bible-teaching churches like ours offer regular Bible studies, so that base is also covered. On the other hand, if women simply want to fellowship, they can go to a group that exists for that purpose.
We did not want to simply offer the women one more ministry option from which to choose. We seriously wanted to fill a gap in our church (the same gap that is present in so many churches today) of older and wiser women intentionally mentoring and discipling younger, maybe less spiritually mature, women. We then came to the realization that if women truly want to be discipled, it would require a two-way commitment and both parties would have to be willing to do the hard work.
I read a book recently which basically stated that Christians want long-term benefit for short-term investments. Any financial advisor will tell you that's delusional. Long-term benefits come from long-term investments. The New Testament teaches ad nauseum about faith and works, picking up your cross to follow Jesus, training so that we win the prize, and standing firm to resist the schemes of the enemy. The entire Christian journey is training in spiritual discipline, maturity, and warfare.
Newsflash concerning the big picture: We are at war! It is a spiritual war. We know the victory is already won and the weaponry for warfare is not carnal. We understand that the Holy Spirit is at work on our behalf and the Apostle Paul tells us with that understanding, we can train to stand firm against the evil one. Mentoring in the manner we have outlined helps us train our minds. Winning in our daily battles is directly linked to how well we train in truth, righteousness, living the message of the gospel, knowing the assurance of our salvation, hiding the Word of God in our hearts, and praying without ceasing (Ephesians 6:10-18). As warriors on God's side, we must be alert, intentional, and persistent about moving disciples from milk to meat diets.
How well do you train? How does knowing the big picture change the way you train?
Natasha Sistrunk Robinson serves as co-director (along with Nikki Kober) of the Women's Mentoring Ministry at Cornerstone Baptist Church in Greensboro, North Carolina. She is the founder, writer, and speaker for His Glory on Earth Ministries, a member of the Redbud Writers Guild, and a full-time student at Gordon-Conwell Theological Seminary. Connect with Natasha through her blog, Twitter, or Facebook.