The Sacrament of Evangelism
A book review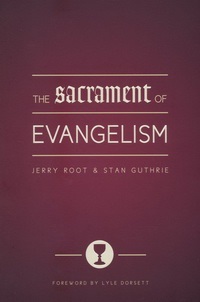 I have read a lot of books over the years, many of them on spiritual topics. I read books on Bible study methods, prayer, small-group leadership, and sharing your faith. I thought they would help me build skills that, as a nerd and introvert, don't come naturally. Most of them had steps to follow, goals to set, and acronyms to remember. Those are great tools. They give me structure and clear goals. However, I am learning that using a formula and following steps do not guarantee success.
I confess, in the evangelism department I should get an F. I can count on one hand the people I've told about Jesus who said yes to his invitation. I have never felt comfortable walking up to some stranger and asking, "If you died today, where would you spend eternity?" I don't leave a little booklet on the restaurant table with my tip. It's not that I don't love Jesus. I just feel like a used-car salesman. Reading all those books about evangelism did not improve matters, either. They only left me feeling guilty.
I've been missing something. The Sacrament of Evangelism, by Jerry Root and Stan Guthrie (Moody Publishers, 2011), helped me see what it is: relationship. My relationship with God, my relationships with those around me, and God's relationship with them.
The book starts by explaining what "sacrament" means. God is already present and working around us. When we take communion, he is present. When we pray for those who are lost, he is present. He wants to have a relationship with us. So…as I nurture my relationship with him, some things happen:
As my understanding of God's love for me grows, and my love for him grows, that love overflows into my relationships with other people.
As my understanding of God's love for the lost grows, my love for the lost grows.
As I remember that God is already present and working in my life and the lives of those around me, I become more aware of his presence. I start to recognize the work he is doing. I recognize the brokenness in other people as an invitation to lovingly tell them about Jesus.
Evangelism, like prayer and reading the Word, is not intended to be a "good deed," something to check off my do-list, or part of a magic formula to have a more rewarding relationship with Jesus. It's not something that makes God love me more. According to the book, evangelism is about nurturing my relationship with God and joining him in the work he is already doing.
The Sacrament of Evangelism could easily be used in a Sunday school class or small group. It isn't heavy on theology. I'm a seminary student, but I think this book is readable for anyone who loves Jesus. It contains a few tips on starting conversations and being discerning. It also suggests Scriptures to use in conversation. Each chapter includes discussion questions to give structure to group conversation.
Also included are some touching accounts of how the authors put the book's principles into practice. In one inspiring story, Jerry had a conversation with a college student who visited his church. Eventually the student responded to the Gospel, and he was mentored. We hear about the change in this person's life and the domino effect that resulted. While reading this account, it occurred to me that if a mature believer had come alongside me in the early days of my faith, "evangelism" might not have seemed so scary. Now as someone who has walked with Jesus for more than 20 years, I realize evangelism is about more than me sharing the gospel. It is also about nurturing relationships with young believers so they share the gospel as well.
There are a few points at which the book gets so focused on our relationship with God that it is hard to see the connection to evangelism. For example, there is a chapter on developing character. Courage, temperance, justice, and wisdom are discussed. I can see how courage is needed to tell others about Jesus, but it is hard to think of justice and temperance in the context of sharing the Gospel. However, the discussion questions at the end of the chapter make the connection well.
If you are looking for another book on evangelism that gives you a program to implement, this is not the book for you. It takes a more holistic approach. If you are looking for something refreshing and different, then I highly recommend The Sacrament of Evangelism.
Diana Prange is a student at Northern Seminary in Lombard, Illinois, and a lay leader at her church. In her free time she plays violin, makes blankets for sick children and unwed mothers, and plays with her parakeets, Lily and Sunny.