Exciting News for eReaders
It's a new day for book lovers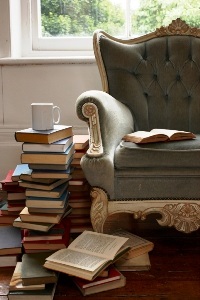 "I don't think I'm going to buy this book. I don't want it taking up space in our house."
You never would have heard me say that two years ago. I'm a book lover. I love books for how they help me learn, explore the world, consider ideas, discover new places, get inside the minds of people, and better understand my own mind. I love them for their potential—when I look at a book, I'm tantalized by thoughts of what I might find in its pages. I love to read books, own them, smell, feel, and gaze lovingly at them. And I've been this way since I was four years old.
My husband is intimately familiar with my love for books, partly because, well, he's my husband. But also because we have moved a lot. And he has had to lug boxes and boxes of books around the country, up the stairs, down the stairs, into truck, out of trucks, many times. Every time we've moved, he has begged me to get rid of books. I've usually discarded a few token titles but insisted on dragging the rest of them with us.
Then two years ago he bought me an eReader for my birthday. And everything changed.
The change happened slowly because I still love the feel of a book in my hands and because I had a large stack of books on my nightstand waiting to be read. But I starting using my eReader too, and eventually I got to the point where I became so enamored with the fact that I could hold an entire library in my hands, I all but stopped buying hard copies.
I didn't realize I had made this switch until recently, when a few people recommended books to me and I got a bookstore gift card for Christmas. When I was investigating to see whether I wanted to buy them, I automatically checked first to see if eBook versions were available. In most cases, if they weren't, I didn't buy the books. I decided I didn't want to add to the stacks of books in my house! I still love hard-copy books, but now only the most alluring can convince me to buy them in actual paper form.
Fortunately for people like me, the virtual world is full of wonderful eBooks. And publishers are creating more all the time.
As the publishing world is changing, we're changing too. I'm very excited to announce that we are now creating eBooks. We've recently released our first batch, some of which are specifically for women in leadership. And from now on, when you're interested in one of our downloads for ministry, check your buying options at the bottom of the page. You may see the option to buy that download in eBook form.
So whether you're looking to get your spirit fit to lead or you want to know what it means to be a woman in ministry, see our new selection of eBooks just for you. And watch for many more to come!
Amy Simpson is the editor of Gifted for Leadership and Kyria's Marriage Partnership and ParentConnect. She is the author of numerous resources for Christian ministry, including Into the Word: How to Get the Most from Your Bible.