Mentoring and Multiplying
Identifying, training, and equipping leaders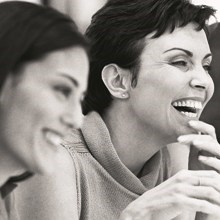 After many lessons learned from teaching the Bible for 10 years and having successfully launched a women's small group ministry at our former church, I wanted to take time to pray and research before launching a women's mentoring ministry. After reading a few articles and researching online, I read Regi Campbell's book Mentor Like Jesus, in which he presents Jesus as the world's best mentor and highlights lessons gleaned from Jesus' mentoring relationship with his twelve disciples.
What's Prayer Have to Do with It?
For starters, Jesus selected the disciples after spending an entire night in prayer (Luke 6:12-13). There were no applications or referrals. Jesus simply prayed to his Father and selected the ordinary men his Father revealed for his missional task. From a biblical perspective, mentoring is for the purpose of discipleship. It requires a serious commitment of servant leaders willing to sacrifice and lay down their lives for the sake of others. If a person is not fully committed to the work, she should not do it. Therefore, praying for God's direction concerning leaders is a radical first step.
For many years, I have been appalled by some of the people allowed to lead in the church. My observations are not that they were bad people. In most cases, the people were sincere Christians who wanted to please the Lord but lacked spiritual depth. Others had sound theology but were emotionally immature; they lacked either self-awareness, personal integrity, or discipline. Because these people were hurt and unhealed, they often (with no intention) hurt other people. Those type of leaders are rarely corrected because they are in positions of power and the hurt parties either remain silent or leave the church, never to be heard from again. In cases like this, the person with the "title" should not have been leading in the first place.
The church is one of very few organizations where people are allowed to volunteer and then be placed "in charge" with no real evaluation or training. Sometimes church leaders do this for lack of resources and at other times, out of laziness because some ministries are deemed more important than others, so we focus on our "pet ministries" with little regard for what is best for the other ministries or the entire church. In short, this practice is irresponsible and must stop. In the church, we are God's agents of change for winning souls and shepherding them. I submit that this work is more important than anything that takes place in the secular arena and therefore requires much more care.
I Have Prayed, Now What?
Jesus' model for choosing leaders was simple. Pray and wait for God to reveal his chosen vessels. Once God reveals his chosen vessels, those people are then confirmed by the recognition of humans. When launching the women's mentoring ministry, we prayed to God and developed a list of women to potentially lead mentoring small groups. We asked the women's ministry director for confirmation, along with our church staff. Afterward, we asked those women to pray about this potential leadership opportunity. Approximately half of them came back with a "no" response. Because we followed Jesus' example, there was no temptation to manipulate them to decide otherwise. In our first year of ministry, we confirmed eight mentors to establish a leadership team.
If identifying leaders is important, training them is equally important.
The New Testament talks about equipping believers for work of the Kingdom (2 Timothy 3:16-17 and Hebrews 13:20-21). Looking to Jesus, we observe him spending the most time praying with, teaching, and training his twelve disciples. He did this so they could go and do likewise. Campbell writes, "Those he [Jesus] mentored totally committed to his mission, worked together as an effective team, and through their efforts, arguably one-third of the world's populations believes in what they taught. From eleven people [I would add the Apostle Paul as the twelfth] to two billion…Jesus was a pretty good mentor."
A Mentor's Vision Is God's Kingdom
The growth of Jesus' ministry and the advancement of God's Kingdom occur through the power of the Holy Spirit as evident in the book of Acts. God's Kingdom explodes as a result of the faithful commitment and firm foundation laid by those ministered to by Jesus. Making disciples of all nations begins at home (Matthew 28:19-20). On our leadership team, we equip leaders to go out and do the work of God's kingdom. The Apostle Paul wrote to the church of Ephesus that leaders are given "to equip his people for works of service, so that the body of Christ may be built up until we all reach unity in the faith and in the knowledge of the Son of God and become mature, attaining to the whole measure of the fullness of Christ" (Ephesians 4:12-13, NIV).
A few months ago, my ministry partner and I received a note from one of our mentors stating that she would not return as a mentor next season. She explained that in her prayer time, God had birthed in her heart a desire to minister to widows. This is a gap that needs to be filled in our church, and ministry to widows speaks to God's heart. We will miss her leadership in the mentoring ministry, but we have equipped and trained her so that she can faithfully and confidently go out to do the work God has prepared for her to do. We will continue to lovingly avail ourselves and assist her to this end.
Equipping the Saints
Prior to launching mentoring groups, we spent five months praying, teaching, and training our leaders and preparing them for the important work of ministry. Perhaps the biggest transition we observed during this time was the building of confidence, not in their own abilities, but in their trust that God who called them would also sustain them (Romans 8:30 and Philippians 1:6). Then we shared the message of mentoring with others. Throughout the season, we continue with monthly leadership meetings and training sessions with the leaders.
One mentor said, "The training we received not only taught us the biblical perspective of mentoring through the example of Jesus' ministry, but we also received instruction in leadership, organization, listening, and 'people skills' necessary for conducting our mentoring gatherings, maintaining order, and preventing 'domination' by an over-talkative or zealous mentee. We were trained to understand the world view of the various generations of women who would be in our groups, and how to encourage interaction. We were also trained in how to conduct a meeting and keep up with the time in order to accomplish the goals of each mentoring gathering. It was very important to have each mentor trained, equipped, and ready in order to maintain consistency in what was being taught and discussed. There were no 'rogue groups' going off on tangents which would defeat the purpose of the women's mentoring ministry. I felt fully prepared to conduct my first meeting with the training I received."
How do you equip and train the leaders in your church or ministry setting? Do you recommend any resources?
Natasha Sistrunk Robinson serves as co-director (along with Nikki Kober) of the Women's Mentoring Ministry at Cornerstone Baptist Church in Greensboro, North Carolina. She is the founder, writer, and speaker for His Glory on Earth Ministries, a member of the Redbud Writers Guild, and a full-time student at Gordon-Conwell Theological Seminary. Connect with Natasha through her blog, Twitter, or Facebook.