A Challenge to Children's Ministry, Part 1
Why my kids may not visit your church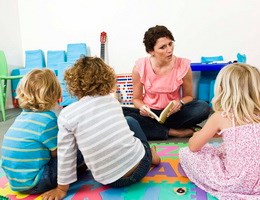 On a recent visit to a new church, my oldest son brought home one of those sheets with Bible verses and talking points. I looked it over as we drove and read aloud the big, bold print.
"You can be trusted when you choose the right words."
"What does that even mean?" my husband asked, risking a puzzled look away from the road.
I laughed, and we more or less dismissed the whole thing.
Only not really—because this is what my child learned at church. It's not that the message was untrue, exactly, only that we failed to see what it had to do with Christ.
As my children move from nursery to grade school kids' ministry, my husband and I grow increasingly wary of what they learn at church. This is prime time for impressing upon them the love of Christ, yet many of the messages they hear are, at best, unclear and, at worst, moralistic, legalistic warnings about displeasing Jesus.
I spent two summers as a children's ministry intern, before I had kids. After those experiences, I understand what a difficult job the directors of children's ministries often have. It's a feat to balance volunteer needs, curriculum choices, often unexpected numbers, and large events like Vacation Bible School. However, now, as a parent, I also understand how much impact these ministries can have on our kids. An incorrect or incomplete theology may be more damaging than encounters with blatant sin, confusing our children about who God is and what he's done.
There are two facets of kids' ministry that I especially question. Are we doing these things in ways that give glory to Christ and teach our children about his true nature?
Atmosphere
Recently I took this same son to a Vacation Bible School at a nearby church. Walking in for the first time, we were overwhelmed by the enormous balloons shaped into hot-air balloons, a cardboard airplane as large as our living room, and clouds swinging from the ceiling. Add in the pounding music from the sanctuary, and my three children went into immediate sensory overload.
I'm not against decorations. I've twisted my share of craft paper vines, and there's nothing more magical for kids (or adults) than a mundane space transformed into another world. However, as we maneuvered around the large sanctuary, I wondered what kind of message it all sent to my kids. How exactly did all this portray Jesus to the children in the room? Does Jesus equal bright colors, thousands of dollars in consumable goods, and a pounding bass beat? Do kids now believe they are entitled to this display of wealth?