Changing to Love Our Neighbors
How one church reshaped a program to serve its community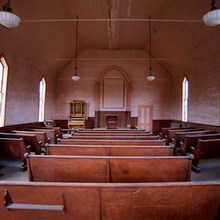 We were a pastoral-size church (150 or less in attendance on Sundays) seeking to grow and trying a programmatic model to do so. We felt pretty good about our "if we provide it, folks will come" method. Who wouldn't want to come and check out (and hopefully join) a loving and unassuming group of Christians like us?
Except the programs didn't do what we hoped they would.
We hired a consultant to come and help us revitalize our congregation and its sense of mission.
As the conclusion of our time with the consultant drew near, we felt overwhelmed. What were we to do? Where would we begin? Would this really work? The consultant encouraged and got us moving with a simple exercise.
"Think about what you already have going for you, because you have great stuff," he began. "What is there that you might be able to rework, to 'turn outward' so that it serves your community in mission and not only the congregation?"
Serving our community in mission? At that point we were mildly active in that capacity. Mostly, we gave money to needy individuals and local organizations that requested it. Translation: our community mission "canvas" was blank and ripe for creative activity.
"What about Simple Supper?" asked a revitalization team member.
"What about it?" the others responded.
Simple Supper was a Wednesday-night dinner that served primarily those who were there for evening activities—choir practice and Kidz Klub (a children's activity/education). The church had been doing it for years. While of course open to anyone who walked in the door, Simple Supper was pretty much a by-us-for-us thing.
The speaker continued. "Well, we're already doing a weekly meal here," he said as he pointed to our generous kitchen. "What if we served the community, instead of just us? How about we turn Simple Supper into a soup kitchen?"
Faces around the table lit up. Smiles crossed each face. "Yeah!" people began saying. It sounded like positive-response popcorn popping.
"What do we do next?"
The idea for what would become Caring Community Kitchen (CCK) was planted that spring day in May. It was well-nurtured throughout the summer and "harvested" the following September. Here are the steps we took to bring forth from seedling the wheat that would feed our neighbors in the name of Christ:
• Prayer and discernment—Actually, the entire process of bringing Caring Community Kitchen to reality was bathed in prayer from beginning, in the middle, and to the end. Since everything was and is God's (the congregation, the community, the mission, the glory), seeking and following God's design was key.
• Research—We checked with the village about zoning, the fire and health departments about the appropriateness of our kitchen and space, community resource organizations about funding and grants, local grocery stores and restaurants about food donations, local public transportation about bus routes and stops, and social service experts about how to serve (and not enable or patronize) needy people.
• Vision—Since we already had the foundation of a once-weekly meal on Wednesdays, we built upon it. CCK would continue that pattern. We did, though, deem three aspects as specifically defining of CCK from the get-go.
o Hearty, home cooked meals—We replaced the soup and sandwiches that had been Simple Supper's staple with healthy and substantial meals.
o Radical inclusiveness—Anyone who came through the doors of our church on Wednesday nights would be served, no questions asked. Over time the CCK family was comprised of the working poor, recovering addicts, disabled people, new immigrants, homeless persons and families, people with a range of religious beliefs, and some who weren't financially lacking at all but were in great need of community.
o Prayer Time—Following the meal each week, we held an informal prayer time to which all were invited. It was a powerful sister ministry to CCK for the faithful few who participated.
• Communication—Throughout the planning process and continuing once CCK opened, the revitalization team and church leadership espoused an open communication policy. Congregants were encouraged to share thoughts, joys, fears, suggestions, networking ideas, etc. Not all conversations were enthusiastic. As a matter of fact, some were deeply concerned how having anyone and everyone from the community in the building would change "their" church. No one who needed to talk was brushed aside. Change is indeed difficult and painful. Being empathetic to this is crucial.
• Marketing—Since we had no idea from whence our guests would come, we were at first stumped as to how to get the word out about CCK. Eventually, we spread our net wide. We printed flyers and placed them on the community boards of the local library and grocery stores, went door-to-door to nearby churches, and were thrilled when local food pantries agreed to place them in each bag of food. Both guests and volunteers spread the word around the area. Media-wise, CCK was featured in articles in the local YMCA newsletter and two community newspapers, and on a page of our church's website.
• Recruiting—Our church may have been small in comparison to others, but God rose up a strong group of committed volunteers to cook, clean, provide food, and donate money. Our long-term desire was for CCK truly to become a community ministry.
• Faithfulness—There was one, yes, one guest on our first Wednesday night in September 2008, and none came on the following Wednesday. We felt exasperation, but the small-but-faithful core of original volunteers felt a strong sense of God's call for CCK at our church. That second Wednesday was the only day when no one would show.
Caring Community Kitchen changed the congregation for the better forever. It was amazing to watch God work through everyone, even those who only kept up with CCK via our weekly e-newsletter and pleas for volunteers and food donations. It seemed that simply having such a ministry occur in our building was enough for God to touch, change, and soften folks' hearts.
Four years to-the-month later, Caring Community Kitchen continues strongly. It averages 60 to 80 community guests each week, and community groups and individuals from outside the congregation are participating in the ministry. Most important, God is moving in guests' lives. Some have changed their status from served to serving, as their hearts are so grateful. Others have begun attending Sunday worship, joined the congregation, and begun serving in additional ways.
It turns out that the church had what it needed to follow God's call in mission in-house all along. All it needed to do was find the hidden gem, polish it up so that it reflected God's love, and focus its brilliance beyond the walls of the building.
What community mission "diamond" might your congregation have buried in the rubble of self-service?
Search for it, dig it out, and let God's love and power shine.
Rev. Angie Mabry-Nauta is a writer and an ordained Minister of Word and Sacrament in the Reformed Church in America (RCA). She served in congregational ministry for six years. A member of the Redbud Writer's Guild, Angie blogs at "Woman, in Progress…" and on the Church Herald Blog of the RCA. Follow her on Facebook and Twitter @Godstuffwriter.