Changing to Love Our Neighbors
How one church reshaped a program to serve its community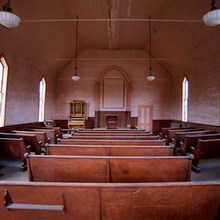 We were a pastoral-size church (150 or less in attendance on Sundays) seeking to grow and trying a programmatic model to do so. We felt pretty good about our "if we provide it, folks will come" method. Who wouldn't want to come and check out (and hopefully join) a loving and unassuming group of Christians like us?
Except the programs didn't do what we hoped they would.
We hired a consultant to come and help us revitalize our congregation and its sense of mission.
As the conclusion of our time with the consultant drew near, we felt overwhelmed. What were we to do? Where would we begin? Would this really work? The consultant encouraged and got us moving with a simple exercise.
"Think about what you already have going for you, because you have great stuff," he began. "What is there that you might be able to rework, to 'turn outward' so that it serves your community in mission and not only the congregation?"
Serving our community in mission? At that point we were mildly active in that capacity. Mostly, we gave money to needy individuals and local organizations that requested it. Translation: our community mission "canvas" was blank and ripe for creative activity.
"What about Simple Supper?" asked a revitalization team member.
"What about it?" the others responded.
Simple Supper was a Wednesday-night dinner that served primarily those who were there for evening activities—choir practice and Kidz Klub (a children's activity/education). The church had been doing it for years. While of course open to anyone who walked in the door, Simple Supper was pretty much a by-us-for-us thing.
The speaker continued. "Well, we're already doing a weekly meal here," he said as he pointed to our generous kitchen. "What if we served the community, instead of just us? How about we turn Simple Supper into a soup kitchen?"
Faces around the table lit up. Smiles crossed each face. "Yeah!" people began saying. It sounded like positive-response popcorn popping.
"What do we do next?"
The idea for what would become Caring Community Kitchen (CCK) was planted that spring day in May. It was well-nurtured throughout the summer and "harvested" the following September. Here are the steps we took to bring forth from seedling the wheat that would feed our neighbors in the name of Christ:
• Prayer and discernment—Actually, the entire process of bringing Caring Community Kitchen to reality was bathed in prayer from beginning, in the middle, and to the end. Since everything was and is God's (the congregation, the community, the mission, the glory), seeking and following God's design was key.