We Can't All Be Beth
I'm called to oversee the corner of influence God has given me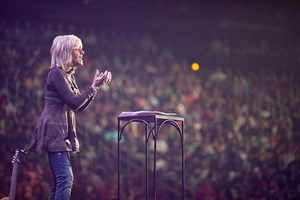 Nearly 10 years ago I sat in an Atlanta, Georgia, arena packed to the brim with college students. I was attending an annual conference hosted by Passion, and Beth Moore was about to take the stage.
In case you have never experienced Beth Moore's teaching outside the realm of women's events and teaching videos, it is an awesome thing to behold. I don't know if the co-ed environment brings out a different side of her, but she was especially on her game. She was fiery and she was powerful. She gripped each one of us with her prophetic message, and she straight-up preached it.
As a young 20-something, I had never seen a woman teach with such authority and conviction. I had never seen a woman command such a large audience with her anointed words. It was inspiring and it was empowering.
I left that day wanting to be like her.
Since that experience, I have realized that I will probably never be like Beth Moore. Aside from the fact that her combination of gifts is extremely rare—and I do not have those gifts—I am an introvert at heart. I enjoy teaching, but it is scary and draining and hard for me. I prefer to sit behind the safety of my computer screen.
For a time I shifted my aspirations from "successful woman speaker" to "best-selling author." I may not be made for the stage, but I still wanted to make an impact with my writing. I wanted to make a difference, and I wanted it to be big.
As I have grown older, my expectations have continued to shift away from the goals of my college-age self. My writing ministry has not "exploded," but instead has been a gradual journey of open doors and new opportunities. I have watched as other writers' careers have taken off faster than mine, an experience that is humbling but important. Along this path God has refined my motives, skimming away the dross of my desires for self-glory. He has redirected my focus off my own image and onto his.
If my younger self could see me now, she might accuse me of selling out, of compromising my dreams by settling for something much too small. "What happened to the vision?" I might ask myself in disappointment. However, I think God has replaced the old me-centered vision with a new vision, a more God-centered one.
The older I get, the more I realize that it's about not the size of my voice, but how I steward it. Whether I have an audience of 10 or 10,000, the more pressing question is whether my gifts and passions are being used for the Kingdom of God. How well am I overseeing the corner of influence that God has given me?