The Care and Keeping of 20somethings
We may need to work with them before we can expect them to step up to leadership.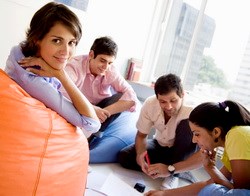 It was a beautiful spring weekend for a beach retreat with our volunteer student ministry staff, most of whom are in their early 20s. We worshiped, we discussed, we ate. We shared stories from a year of student ministry. We prayed for vision and growth in students' lives. And I slept less than I did after bringing home my newborns. Even in my exhaustion, I found myself refreshed and exhilarated by their passion and potential as leaders.
It can be daunting to open up your life and ministry to the next generation. Just when you think you've figured out how to run a small group or women's ministry or even your own meeting, this lively bunch shows up with energy and enthusiasm, zany ideas and young skin. They text each other while in the same room, they tweet a picture of you before you even know it was taken. They change their minds and change their careers with dizzying speed. They are sometimes impulsive with their choices. At times they seem like peers, other times like preschoolers. Pundits say they are entitled and adolescent.
Yet regardless of how you feel about the next generation, they are just that: the next generation. They are the church of tomorrow and the church of today. They are our next pastors, ministry leaders, elders, writers, and communicators. Working with them is a biblical mandate, as we are called to commend the works of God to the next generation (Psalm 71:8).
So how does a leader of any age work with 20somethings? What do they offer us, and what can we offer them? In my own practice of counseling and ministry, I've found there are four essentials to understanding the next generation. These essentials—understanding their development, background, culture and how they perceive us as older leaders—can't be programmed or checked off a to-do list. The investment can come at a high cost, but the potential payout makes it worth it—the great blessing of serving a young leader at a critical intersection in her life.
Essential #1: Appearance Check
In my years of student ministry, I've often reminded parents of teenagers to remember that the grown-up looking creature that stands in front of them—the perfectly made-up girl or the six-foot-three boy—is still a child. That even though they've physically developed, they are still developing emotionally, mentally, and spiritually. I've often had to whisper to myself while looking up into the mascaraed eyes of a teenager taller than me, "She's thirteen. She's thirteen. She's thirteen." That makes sense when you are working with high school students, but perhaps it makes even more sense when working with 20somethings. We call them "young adults" but in reality, after college, young people are hurled into the vast sea of "adulthood." They often sense that they are supposed to be ready to be grown-up, yet feel shockingly unprepared. This creates the temptation to hide their true selves and offer up a more "adult" version.
I once sat with a young person at my breakfast bar. Over coffee, she confessed to me how utterly unprepared she felt for life. From figuring out how to have good friends to managing a budget, this young person felt inadequate at just "being" an adult. I reminded her gently that she wasn't just an adult. She was a baby adult. I told her that there are developmental stages in adulthood, not just in childhood.
As a "baby adult," her job throughout her 20s was to grow in these things. To grow into a woman who can pick friends and make dinner and plan for retirement. A woman who can buy her own couch and go on a blind date and decide what time she likes to wake up on Saturday. A woman who has to decide for herself if she's going to devote her life to God, if she'll follow through on her commitments, if she'll clean her room. Most 20somethings I know need permission to not have life figured out. They need to know that you, at 30 or 40 or 50, are not the same "you" you were at 20something. Although they will not want you to dictate their lives for them, with enough grace, coffee, and time at the breakfast bar, they will show you their true selves, thirsty for direction at how to be a grown-up.
Essential #2: Background Check
Beginning a relationship with someone in their 20s can be like adopting a two-year old dog rescued from a shelter. In your new pet's first days in the home, you quickly learn about their past by their current behaviors. You might interpret the way they cringe at your raised hand as a sign of abuse. Attention-seeking behaviors might clue you in to the dog's former neglect. And you would adapt your home environment, at least for a time, to make the transition easier for everyone.
It is easy to expect 20somethings to immediately "adopt" your culture and processes in ministry. Instead of thinking of ourselves as learning from them, we often expect conformity with the way we are already doing it. But young people bring a whole host of "learned behaviors" into the ministry setting. It is our responsibility to help these new adults in the transition time: to understand how their own upbringing, educational background, and experiences in faith affect and shape the way they approach the future. This can be as easy as asking new people in your work environment or ministry team about their families, their experiences in college, their church background. This information provides excellent context for understanding how you can best "adopt" young people into your team.
I recently worked with a young person I selected to run a volunteer ministry team. After a conflict arose between him and a young woman, I learned more about his family background. His relationships with females had been limited to the domineering influence of his mother and grandmother, who used manipulation to control both this young man and his father. His coping strategy was to shut down and avoid both of them. As I learned more about his upbringing, I understood why he reacted with such force to the complaints of his teammate. Knowing his background both softened my heart to him and gave me valuable information on how to coach him through this conflict. I offered him some healthy ways to interact with this young woman, and we had a great discussion about personality type, healthy conflict, and growing into his leadership role. And all of that conversation was informed by gathering background information.
Essential #3: Culture Check
When I graduated from college in the mid-90s, the economy was booming. Jobs were as ubiquitous as grunge bands. Signing bonuses were standard, as were the benefits of a steady paycheck: living on one's own, buying appropriate business attire, and finding new ways to spend money. The environment that 20somethings enter post-college today is very different. Just between the years 2006–2010, the number of young people returning home from college to live with their parents increased by 10 percent, up to 52 percent. Chances are, the 20somethings in your congregation are living at home. In a poor economy, everything takes longer, from finding a full-time job to becoming independent to stepping into the next stage of life. Without an understanding of the culture that our young people are diving into, it can be easy to chalk up their homebound unemployment to indifference. But the church has the opportunity for a better way.
With fewer opportunities for job satisfaction, 20somethings seek purpose and fulfillment outside of their employment. The church is the perfect place for young people to use their education and skills in a meaningful way. I recently met Alex, a freelance graphic designer in his mid-twenties. After working in part-time ministry, he moved home to be closer to his family and was living with his sister. We spoke for a bit about what kind of work he was looking for. His face was downcast as he detailed the hours of time he'd spent building his resume and hoping for interviews. Over the next several weeks, I reached out to Alex, encouraging him in his job search, asking questions, and offering practical help, such as looking over his resume and putting him in touch with some influential people in our community.
Alex's schedule helped me, too. He helped lead worship for our student ministry and worked with me on a design concept and logo for an upcoming student retreat. He was easy to work with and took direction well, and his work was evidence of his talent. I then referred Alex to my denomination's headquarters, where he was paid for some additional graphic design work.
People like Alex are everywhere. The twenties are a transitional time of life when much support and understanding are needed. Without an understanding of the culture Alex is launching into, I might think of him as lazy or unmotivated. Yet when I give Alex more of my time and encouragement, I get more opportunities to plug him into ministry. It's a win for both of us.
Essential #4: Honesty Check
Working with 20somethings may be the best humility check you can get in ministry. The way to build a relationship with young people is not to impress them with your theological knowledge or leadership know-how. It's not about having the answers or "fixing" them. In fact, it's the opposite. Today's 20somethings were young teenagers when the twin towers fell. They are a generation raised with terrorist threats and war, with the reality of violence and oppression only a click away. Their temptation is cynicism—but optimism is wooed by authenticity. If you can't get real with young people, you will lose credibility.
My pastor has always said "more is caught than taught," an essential worth living. Young people want honesty from you. They want to know that you don't have it all figured out (and you certainly didn't in your twenties!) They want to know that you can be wrong and that you know how to apologize for it. They need to know it's okay to not have it all together. They need to know that there's hope for them even when they are a mess. In her blog post on the topic, young author Jennie Allen said, "we would rather you be a wreck and honest than polished and plastic feeling."
Learning to be vulnerable can be difficult. If your church community doesn't value authenticity, it will require courage to live differently. But when you lead with both honesty and hope, 20somethings are drawn to you and your cause. They will devote themselves to you because you model that you can be unsettled and not fully "arrived" and still have hope for change. Being honest is about imparting hope that God is bigger than our failures. But don't tell them! Show them, in the way you apologize, in the boundaries you keep, and in the stories you tell.
Hope for the Future
A 20something recently e-mailed me the following encouragement: "I love that you are still growing. That is so exciting and hopeful for me. I don't have to just make it out of the crappy early 20s and then get stuck." This is the vibrant benefit of investing in 20somethings. From seeing them grow out of baby adulthood to investing in their stories and skills, the older leader has an opportunity to leverage new people into kingdom work. It requires grace and perseverance, but the leader who succeeds joins the psalmist in proclaiming God's "power to this new generation, [his] mighty miracles to all who come after me" (Psalm 71:18).
Nicole Unice is a contributing editor for TodaysChristianWoman.com. She's also author of She's Got Issues (Tyndale). She serves in family and student ministry at Hope Church in Richmond, Virginia.