The Care and Keeping of 20somethings
We may need to work with them before we can expect them to step up to leadership.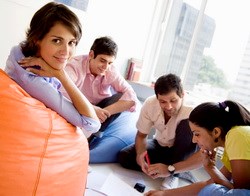 It was a beautiful spring weekend for a beach retreat with our volunteer student ministry staff, most of whom are in their early 20s. We worshiped, we discussed, we ate. We shared stories from a year of student ministry. We prayed for vision and growth in students' lives. And I slept less than I did after bringing home my newborns. Even in my exhaustion, I found myself refreshed and exhilarated by their passion and potential as leaders.
It can be daunting to open up your life and ministry to the next generation. Just when you think you've figured out how to run a small group or women's ministry or even your own meeting, this lively bunch shows up with energy and enthusiasm, zany ideas and young skin. They text each other while in the same room, they tweet a picture of you before you even know it was taken. They change their minds and change their careers with dizzying speed. They are sometimes impulsive with their choices. At times they seem like peers, other times like preschoolers. Pundits say they are entitled and adolescent.
Yet regardless of how you feel about the next generation, they are just that: the next generation. They are the church of tomorrow and the church of today. They are our next pastors, ministry leaders, elders, writers, and communicators. Working with them is a biblical mandate, as we are called to commend the works of God to the next generation (Psalm 71:8).
So how does a leader of any age work with 20somethings? What do they offer us, and what can we offer them? In my own practice of counseling and ministry, I've found there are four essentials to understanding the next generation. These essentials—understanding their development, background, culture and how they perceive us as older leaders—can't be programmed or checked off a to-do list. The investment can come at a high cost, but the potential payout makes it worth it—the great blessing of serving a young leader at a critical intersection in her life.
Essential #1: Appearance Check
In my years of student ministry, I've often reminded parents of teenagers to remember that the grown-up looking creature that stands in front of them—the perfectly made-up girl or the six-foot-three boy—is still a child. That even though they've physically developed, they are still developing emotionally, mentally, and spiritually. I've often had to whisper to myself while looking up into the mascaraed eyes of a teenager taller than me, "She's thirteen. She's thirteen. She's thirteen." That makes sense when you are working with high school students, but perhaps it makes even more sense when working with 20somethings. We call them "young adults" but in reality, after college, young people are hurled into the vast sea of "adulthood." They often sense that they are supposed to be ready to be grown-up, yet feel shockingly unprepared. This creates the temptation to hide their true selves and offer up a more "adult" version.