Please Lead. I Need You.
Mentoring makes a difference, even from afar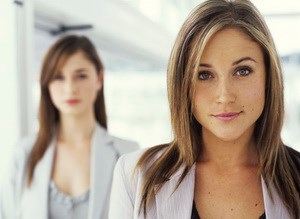 Not long ago, I messed up something for a client. She emailed me about it and I emailed back an apology.
And then I waited.
I watched the clock tick. No response.
I burned with stomach acid and shame.
It was an idiot mistake. Anyone with a little professional savvy would've known better. Sorry or no sorry, she was going to fire me. I knew it.
I went to bed that night chanting, "I will not worry. I will not worry."
I worried.
The next day my iPhone pinged mid-morning. It was her. She sent a simple word.
"Thanks!"
Um. Okay. Phew. Not fired. In fact, not even in the dog house. In fact, maybe I overreacted a little.
She thanked me for the apology and moved on.
One thing ran through my head: I am not fit to be an adult. What am I, a kindergartner? Afraid Teacher will be mad at me?
Well. Yes. It's completely logical to me that when I mess up, I am then called into question. Am I capable? Is this even a right fit? How will I overcome this new reputation of being one who messes up?
Her response neutralized all that. The more I considered her response, the more I realized what she'd just done for me personally and professionally. She had modeled for me a leadership skill of addressing something, then moving on. Maybe I'd heard about that kind of leadership before, but she modeled it. And she modeled it at just such a time as it would influence the way I carry out my future plans.
Riddle me this: is it more important for a leader to drive others to excellence, or to show a neutralizing "Let's move on" to them on a day when they're not their best?
The answer? Ask Peter.
When Jesus was arrested and taken to the courtyard of the high priest, a lot of excruciating drama was unfolding. Peter stood nearby warming himself by a fire. A young girl asked if he was a disciple of Jesus.
Peter is my hero because, like him, I would absolutely be the one to pull together a cool one-liner at the most inopportune time and toss off a response to that girl. In his moment of truth, Peter said, "I am not" (John 18:17).
If it were me, I would then run through this diatribe in my head: I mean, yes I am. Yes, I am! I'm just scared. Am I one of his disciples? Yes, I am.
Then Peter got a second chance. And what tumbled out of his mouth? "No, I am not." Again (John 18:25).
I could almost weep, I so relate to that guy. Then along came chance number three.
A guy got a good look at Peter and asked again if Peter was from Jesus' group. (P.S. Peter—I think he knows it's you.) Peter, come on! Just say it out loud now with a third chance to set the record straight.