The Protégé Path
An introduction to a better way to train church leaders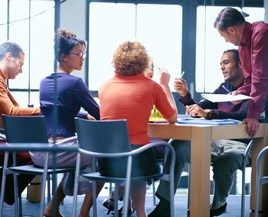 Throughout history, if someone wanted to learn a particular skill, he or she would find a master or mentor to guide them. This person seeking to learn and grow is called a protégé. And like any skill or trade, ministry leadership involves a set of abilities that must be developed and cultivated.
There are countless protégés simply waiting for an experienced master of their trade or wise mentor, but they so often become lost in the deficit of strong and developmental leadership that is so absent and misprioritized in today's culture, and in today's church. Where do these hungry protégés go to learn the skills and character they long to develop so that they can maximize their impact in the world? Who do they seek out to guide them on this critical journey?
A large majority of protégés within the church currently seek development from the educational system, predominantly from seminary. Others search for guidance from an influential, but distant, church figure, perhaps looking to imitate their success from afar. Although these tracks of learning and development are important, there are significant limitations when someone chooses either of them as their primary, even sole path.
Don't get me wrong, attending seminary can be (and was for me) a remarkable resource for attaining knowledge (of the Scriptures, church history, leadership, etc.). Do I believe seminary can play a significant role in a person's development? Absolutely. It has in my life, and in many others I know. So let me be clear. I am a believer in the value, and even necessity, of a theological education. However, research tells us that the overwhelming majority of seminary graduates don't gain the adequate hands-on experience necessary for effectiveness in the world outside those classroom doors. Ninety percent of ministers report that they were inadequately trained for pastoral ministry, and fifty percent admit that they feel incapable of meeting the needs of their current job.
Although I greatly appreciate the seminary I attended (Bethel Theological
Seminary in St. Paul, Minn.), it's still limited in its scope compared to what it takes for a ministry leader to develop in a holistic, customized fashion. I'm profoundly convinced that attending seminary without also receiving "on-the-job training" is the equivalent of a physician attending medical school without ever practicing their skills in clinical rotations. And this dilemma is not solved with a simple field education course, as good as it may be.