When the World Shakes
Suffering reveals the impotence of our idols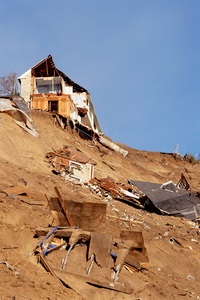 From our cabin in Wisconsin there's a long, sweet swim to a raft anchored a few football fields' length out. It belongs to the Reeves, dear generational friends who are like family. Their men do all the work of hauling the raft out and in each summer, of rescuing, repairing, and returning it to the depths when storms on Green Bay overpower it. Those four-foot waves can break the heavy chain to the anchor as if it were a string, carrying the six-hundred-pound raft to shore and tossing it up on the rocks as if it were a child's plastic inner tube. Sometimes we stand inside the safety of our cabins and watch, in awe of the storm, in awe of the power of God.
When God shakes the world of a believer, it is no longer judgment, but mercy. We have stones in our hearts, and shaking can loosen those stones so that they may be removed. God's purpose is healing.
Recently, dear friends of mine began walking through the wilderness. Ed was a pastor with a great deal of warmth who elevated Scripture, but when I visited his church and listened to him preach, his sermon seemed man-centered instead of gospel-centered. Man-centered sermons tend to focus on what we can do instead of on the glory and the power of God. Though this may not be the pastor's intention, the effect is that individuals listening then try to change themselves mechanically instead of concentrating on intimacy with God. And basically—it doesn't work. Unless Christ is continually exalted, our hearts remain cold, and we do not long to abide in Him, so we do not bear lasting fruit.
I thought about telling Ed about a wonderful series on gospel-centered preaching I had listened to. But since most pastors do not welcome unsolicited suggestions on how to be a better preacher, I held back. However, when the church gave Ed a sabbatical, I emailed him, telling him my own speaking had improved dramatically since listening to seventeen messages from Ed Clowney and Tim Keller on how to preach to the heart. I gave him the iTunes link in case he was interested in listening during his sabbatical.
He was. He listened to every message and took dozens of pages of notes. He went through a time of personal revival. He was convicted that his preaching was not truly gospel-centered. He returned to the church after the sabbatical, excited, telling the elders that he wanted to lead the church in gospel-centered preaching through Romans. But to my great surprise, the elders did not agree with that direction, and Ed felt, before God, that he had to resign.