Word War, Religious "Nones," a Leap of Faith, and a Nobel Prize
Four recent events that matter to your ministry
Consider these recent events and how they might affect your ministry.
Book Controversy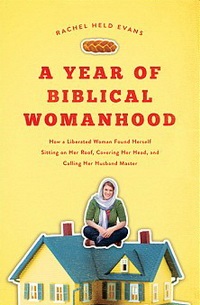 A Year of Biblical Womanhood, the new book in which popular Christian blogger and writer Rachel Held Evans charts her attempts to follow all the Bible's instructions for women, made news this week when LifeWay bookstores announced they will not carry it. The chain objects to the use of the word "vagina," which Evans' editors at Thomas Nelson urged her to remove to avoid offending Christian booksellers. After readers found out about the request, via an Evans blog post in March, they petitioned the author to put the word back in. She did, and the chain will not carry the book in any of its 160 bookstores.
In response to the controversy, Evans said, "I often hear from evangelical leaders, 'Oh we're really eager to have more female leaders.' I want to say, 'This is my voice. This is what it sounds like.'" While conversations may begin with whether LifeWay made the right decision, or whether Evans should have removed the word to avoid offending more conservative readers, they can provide an opportunity to move toward a dialogue about what it means to be a Christian woman in the public sphere.
"Vaginagate," as it has come to be called, has brought Evans' book to the attention of people who might not otherwise have encountered its ideas—while the narrative playing out in the media is on its face frustratingly familiar (look at the ridiculous Christians arguing over a silly word!) it opens up the possibility of a real discussion about what the Bible really does say for and about the role of women in the church and the world. You might capitalize on the interest the stories have drummed up by organizing a book club or Bible study that uses Evans' book as a starting point for study on the subject.
Nones on the Rise
A new survey released by the Pew Forum on Religion & Public Life revealed that one in five adults have no religious affiliation, up five percentage points from just five years ago. This includes atheists and agnostics, as well all others who report no religious affiliation.
These "nones" are most likely to be young; 32 percent of 18- to 29-year-old adults fall into this group, compared to only 9 percent of those 65 and older. It is typical for young adults to skew less religious than older generations, but young adults today are much more likely to be unaffiliated than previous generations were at a similar stage in their lives.
But these "nones" have some surprising beliefs and practices. Two-thirds of them say they believe in God (68%). More than a third describe themselves as "spiritual" but not "religious" (37%), and 21 percent say they pray every day. Most think that churches and other religious institutions benefit society by strengthening community bonds and aiding the poor.