Leadership Is Relationship
An interview with Executive Director of Renovaré, Rachel Quan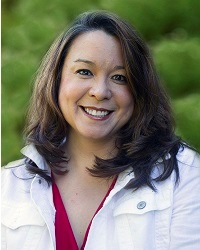 During college, Rachel Quan's spiritual journey was shaped by the book Celebration of Discipline, Richard J. Foster's formative work on the spiritual life. Today Quan serves Renovaré USA—founded by Foster in 1988—as its executive director, bringing with her a wealth of experience from a rich career in church, parachurch, nonprofit, and business leadership. GFL recently spoke with Quan about leadership, spiritual formation, and her Wonderdog, Brooks.
Rachel, tell us about the work of Renovaré (a Latin word meaning "to renew") and the role you play there.
Richard Foster, Dallas Willard, Marti Ensign, Roger Fredrikson, Bill Vaswig, James Bryan Smith, and others had a vision for spiritual renewal and lifelong discipleship to Jesus, and they helped to form the ministry. We believe that the Kingdom of God is here and now and that the abundant life Jesus promised is available to everyone and anyone. We aren't just waiting for our abundant life in heaven. We can really live into that abundant life now. Our passion as a ministry is helping people become more like Jesus. People who desire to become more like Jesus have an impact on the world they live in.
"Executive director" is just a fancy title for doing whatever it is that needs to be done to continue to promote the vision and mission of the ministry. I see my key role as one of team builder—bringing the team together that takes the message with them wherever they go. We have an incredible board, ministry team, and staff who write, speak, and share the work. They are from all walks of life, different denominational traditions, and various ages. We aren't about one personality doing all of the writing and speaking. Richard was the one who started this—always bringing along new leadership with him wherever Renovaré was invited. We continue that to this day.
How did God gift and prepare you for your work with Renovaré?
First of all, I have had incredible mentors and friends in ministry and the marketplace, who have loved me enough to encourage the gifts they've seen in me, or have held me accountable for the areas I've needed to grow in. And I have to say that failure was one of the key components to preparing me for the work of ministry. The difficult part about failure is often the ache in my soul as I've learned lessons the hard way. The best part about failure has been what I've learned and hopefully applied. Another positive aspect has become the folks I mentioned earlier—who walked with me and loved me in spite of my failures. Those relationships continue to this day. I don't think I'll ever "arrive" as far as being fully prepared for my work. I'm consistently learning, growing, and making course corrections.