Lean In: Women, Work, and the Will to Lead
A book review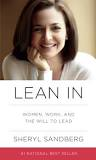 Why I picked up this book:
I read Sheryl Sandberg's Lean In for several reasons: 1) I had seen Sheryl's TED Talk on why there are so few women leading and resonated with her message and style. 2) As the COO of Facebook, Sheryl consistently makes the "lists." You know, like the Forbes and TIME "most powerful" and "most influential" lists they create each year. 3) There still aren't a lot of leadership books written by women at this level of leadership telling not only personal stories but also leadership lessons.
Who should read Lean In:
Every leader should read this book. Men leaders should read this book for the leadership advice (it crosses gender lines) and the glimpse of what life is like for women leaders around them. Women leaders should read Lean In because Sheryl is a voice influencing change on our behalf.
What's in store for you:
Lean In provides extensive research, experienced recommendations, and examples from real-life. Sheryl Sandberg's writing style is like a well-educated, well-traveled cousin (not quite as intimate as an older sister). The book presents one challenge after another, so don't expect a tell-all memoir you can put on your bookshelf and ignore when you're done. Expect to wrestle.
Sandberg tackles some of the issues behind why women aren't leading, like "the ambition gap" and the cultural norms we have learned and adapted (Chapter 2). She also devoted entire chapters to taking different approaches to our careers (Chapter 4: It's a Jungle Gym Not a Ladder), mentoring (Chapter 5), and communication (Chapter 6: Seek and Speak Your Truth).
What I was most surprised by was the extensive content devoted to parenting and partnering with your spouse. I don't know of another leadership book since the classic Choosing to Cheat, by Andy Stanley, that is as explicit about the struggle of juggling all the roles. That being said, Sandberg does not address aspects like spiritual, physical, and emotional health in leadership life and how these play into bringing your whole self to the table. She also does not offer quick and easy lists to becoming a C-suite leader: she is direct in her advice but nuanced in its application.
With discussion questions at the end of the book, you will be well equipped to have a meaningful dialogue with a team or a group of leader friends (like I did).
My personal takeaways:
When I consider the obstacles women face in secular leadership arenas, it seems a little absurd given that it's 2013. When I add on the barriers women face in Christian leadership, like theological limitations to opportunities or gender roles in marriage, it goes beyond absurd to discouraging. Add on the fact that I live in the equivalent of the buckle of the Southern Bible belt, with all of its culturally appropriate behaviors, and I get really fired up.
The book fueled my passion for empowering Christian women leaders to lead in a ministry context. I was convicted to tell more of my story—to be honest with others about my leadership experiences in hopes that they will be encouraged and equipped to lead and pastor others. I also want to help redefine success for women leaders: as Sheryl wrote, it's not about getting to the top of the ladder. I think it's about leaning in to who God is creating us to be and leading with that woman in mind.
What my book club had to say:
Lean In led to some passionate discussion for an early Saturday morning. We felt the book affirmed our leadership gifts and goals in so many ways. This assertion from the book really struck us: "Staying quiet and fitting in may have been all the first generations of women who entered corporate America could do; in some cases it might still be." If you replaced "corporate America" with "ministry," this statement would still be true. Our group is lucky—we all have served in churches or ministries that valued our gifts and invited our voices. But we know the reality is our experience is still the minority when it comes to women leading in ministry.
Sheryl's words challenged us to lead even more intentionally—to leverage our influence and prepare a better experience for the women behind us. We each asked what this would look like for us. For one, it was to be more visible—to put her name in the hat and not wait on someone to call on her. For another friend, her takeaway was to continue to speak up and challenge senior leadership. Just like the women leading before us, we must continue to take on the "firsts" in our leadership context so women in leadership roles behind us will move from being the exception to the expectation.
Twitter-worthy quotes:
"When negotiating, think personally, act communally."
"Of all the ways women hold themselves back, perhaps the most pervasive is that they leave before they leave."
"Done is better than perfect."
Other books I would recommend along these lines:
Tough Choices by Carly Fiorina
No Higher Honor by Condoleezza Rice
Julie Pierce empowers leaders to change the world through coaching, consulting teams, and communicating with groups. You can follow her on Twitter at julie_pierce or read her leadership blog at www.empoweredbypierce.com.