Lean In: Women, Work, and the Will to Lead
A book review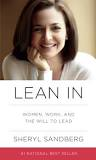 Why I picked up this book:
I read Sheryl Sandberg's Lean In for several reasons: 1) I had seen Sheryl's TED Talk on why there are so few women leading and resonated with her message and style. 2) As the COO of Facebook, Sheryl consistently makes the "lists." You know, like the Forbes and TIME "most powerful" and "most influential" lists they create each year. 3) There still aren't a lot of leadership books written by women at this level of leadership telling not only personal stories but also leadership lessons.
Who should read Lean In:
Every leader should read this book. Men leaders should read this book for the leadership advice (it crosses gender lines) and the glimpse of what life is like for women leaders around them. Women leaders should read Lean In because Sheryl is a voice influencing change on our behalf.
What's in store for you:
Lean In provides extensive research, experienced recommendations, and examples from real-life. Sheryl Sandberg's writing style is like a well-educated, well-traveled cousin (not quite as intimate as an older sister). The book presents one challenge after another, so don't expect a tell-all memoir you can put on your bookshelf and ignore when you're done. Expect to wrestle.
Sandberg tackles some of the issues behind why women aren't leading, like "the ambition gap" and the cultural norms we have learned and adapted (Chapter 2). She also devoted entire chapters to taking different approaches to our careers (Chapter 4: It's a Jungle Gym Not a Ladder), mentoring (Chapter 5), and communication (Chapter 6: Seek and Speak Your Truth).
What I was most surprised by was the extensive content devoted to parenting and partnering with your spouse. I don't know of another leadership book since the classic Choosing to Cheat, by Andy Stanley, that is as explicit about the struggle of juggling all the roles. That being said, Sandberg does not address aspects like spiritual, physical, and emotional health in leadership life and how these play into bringing your whole self to the table. She also does not offer quick and easy lists to becoming a C-suite leader: she is direct in her advice but nuanced in its application.
With discussion questions at the end of the book, you will be well equipped to have a meaningful dialogue with a team or a group of leader friends (like I did).
My personal takeaways:
When I consider the obstacles women face in secular leadership arenas, it seems a little absurd given that it's 2013. When I add on the barriers women face in Christian leadership, like theological limitations to opportunities or gender roles in marriage, it goes beyond absurd to discouraging. Add on the fact that I live in the equivalent of the buckle of the Southern Bible belt, with all of its culturally appropriate behaviors, and I get really fired up.