Multicultural Ministry at Work
An Interview with Vancouver Pastor Joèl Adrienne Amzil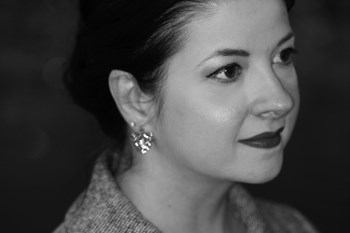 Joèl Adrienne Amzil is an associate pastor at Trinity Baptist Church in Vancouver, a congregation known for its rich multicultural ministry. We wanted to hear more from Joel about Trinity, her role there, and how this multicultural congregation worships together.
Joèl, tell us a little about TBC.
Trinity Baptist Church has been serving the west side of Vancouver for 99 years. We are really looking forward to our 100th anniversary next year!
We certainly have seen quite a few changes over the last century, especially with regard to ethnicity. Currently, we have a large population of Mandarin-speaking Chinese, a significant number of people from the Philippines, and then our final third is made up of a mix of people who originate from a few dozen countries from all around the globe.
Pentecost is always a fun and meaningful day for us, as we fill our sanctuary and our fellowship space with large flags from all of the countries we have represented here. In fact, each year we are asked to add even more flags as people from additional countries join our church family. We are running out of room. The only continent we don't have represented at Trinity is Antarctica.
It is important to note that amid this diversity, we have a vision for one community of Christ comprised of people from many lands.
A lot of congregations "want" diversity, but have failed to achieve it. What would you say it is about TBC that has caused it to be such fertile soil for the kind of diversity—and unity!—that marks the kingdom Jesus ushered in?
Well, geographic location has something to do with it! Vancouver is very ethnically diverse. But beyond that, Trinity has been open to having fellowships where people of the same ethnicity gather, while still all worshiping as one body. We also have a significant ESL program that has drawn people in. Our first service is translated into Mandarin.
This vision of one church with many ethnicities is attractive to people. It's not only representative of our city, but also of God's kingdom. Also, many new immigrants to Canada want to fully integrate into Canadian life. And joining a multi-ethnic church is one way to do that. They could go to a mono-ethnic church representing the ethnicity of their home country, but some choose a church home with more diversity. Multi-ethnic ministry is not always easy, bit it is most certainly worth the effort. And we believe it is sustainable as it is the desire of the heart of Christ.
Can you describe your ministry role at TBC?
I am currently one of the associate pastors. I participate in typical pastoral duties such as preaching, teaching, and visitation. I've also presided over a number of funerals, and I officiate weddings now and then. I also oversee youth and children's ministries. Never have I known a greater group of young people than we have here at Trinity. I am far from the typical "youth pastor," but they seem like me anyway.
Say something more about not being a "typical youth pastor!" What's typical and how are you atypical?
For starters, I'm terrified of dodge ball. You will not catch me camping under any circumstances. I've never played laser tag, nor do I ever plan to. I have the best volunteers in the world that do these sorts of things with our youth, but it's just not me. And they seem to be more than okay with that. Instead, I connect with them in other ways.
Some of our readers are leaders in congregations that would love to be increasing the diversity in their congregations. Can you offer any advice to these clergy and lay people?
I wish there was a simple formula. But prayer is always the best place to start. Even if there is such a desire amidst the leadership, there must be a true desire that infiltrates the majority of the congregation.
There also needs to be a serious willingness to be open to change. You can't do things as you always have if you are to fully welcome diversity.
A willingness to really learn about the cultures of those who start to trickle in is important, too. Learn their communication styles. Be open to having translation available to those who need it. Really be willing to get to the root of issues and dialogue.
Also, ethnic diversity among the visible leaders helps. We have board members, ministry coordinators, staff members, and worship team leaders that represent Trinity's diversity. So our church is not just one that welcomes people from all nations to worship here, but they will be invited to lead and to minister as they are gifted and called.
Margot Starbuck is a frequent contributor and editorial advisor to Gifted for Leadership, an author, a speaker, and a volunteer among friends with disabilities. Her most recent book is Permission Granted: And Other Thoughts on Living Graciously among Sinners and Saints. More at www.MargotStarbuck.com.