What the Church Needs to Know about Immigration
An Interview with Jenny Yang, Vice President of Advocacy and Policy for World Relief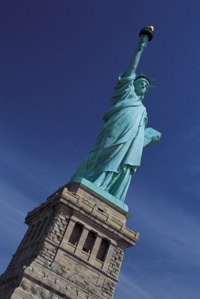 Immigration was one of the hot-button issues of the last presidential election, and it continues to be a divisive issue in the halls of Washington DC today. Unfortunately, far too many Christians and evangelical churches are uneducated on this important issue or taking their "facts" from opinionated and unresearched political and media sources that do not have a holistic Christian worldview.
There is no doubt about it, immigration is a source of tension for all of us. Thankfully, World Relief has made it their mission to "empower the local Church to serve the most vulnerable" and that includes standing for displaced refugees and immigrants.
What are some misperceptions about immigration that the church needs to understand?
There are a few things a lot of churches should know about refugees and immigrants. A lot of them actually come into this country having left everything behind, especially refugees who are fleeing persecution because of war and conflict, or they're being targeted because of their faith. Literally, they step off a plane in the United States and all they have in their possession are two bags of clothes or a bag of clothes and some pots and pans. When they come here, they just need help in understanding how to manage day-to-day, transition into their new entry-level jobs, and how to get from one place to another. A lot of them need our help learning English and assistance with child care.
Since many of them have gone through really traumatic experiences overseas, they are looking for friendship and partnership, and support for their families. There's a lot of need for them to navigate some of the legal processes and be aware of the services that are available to them. Imagine if you went to a foreign country and you don't know the language. Think of the basic things you would want help with from a local person, and those are exactly the things that refugees and immigrants really need. So like the rest of us, they are looking for help with basic needs and a friend. They don't need a lot.
Concerning undocumented immigrants, it's really hard for them to get right with the law and integrate fully because they don't have legal status. In the end, the church has to stand in the gap to speak up for better policies and laws that are actually affecting refugees and immigrants. When we have millions of people in our country who are undocumented, it's our responsibility to speak up and call for immigration reform that will change the immigration laws so immigrants can have an opportunity to get right with the law and earn the right to stay in this country.
We can all do a better job of understanding cultures that are different than our own. For those of us who have taken the strides, I feel like we receive more from immigrants than we would ever be able to give them. In general, refugees and immigrants are really resilient people. Hearing their stories of what they went through and understanding all the ways that God is working through their lives really expands our mission of how God moves and how God works all around the world. So I think partnering with refugees provides a great opportunity for churches to welcome and to receive a lot from refugees and immigrants by expanding their view of God.
It's my hope that churches will partner with immigrant churches and really start to understand their needs. And it's not about us giving; it's actually about us partnering with churches that are already there, and insuring that our relationships develop.
Thank you so much for sharing this critical information with us. In the conversations concerning justice, we often speak of changing the way we see other people and breaking down racial, ethnic, and social/economic barriers. From your perspective, can you speak to the importance of raising the Asian American voice in the church?
Yes. It's amazing because when you look at the demographics of the United States, the Asian American population is probably one of the fastest growing minority groups in the United States, and because of that a lot of immigrants come to the U.S. I know a lot of Koreans come to the U.S., and a lot of them are very strong believers. So I hope that the American church is really open to learning from the Korean American or the Asian American community because the way that we understand our theology and the different ways we experience God are all ways that can expand God's vision in the American church. I actually think God is bringing immigrants here for a reason and maybe part of that reason is to revitalize the evangelical church of the United States.
The American church needs to understand the value that immigrants bring. They're very family-oriented, they're very hard working. There are so many values that immigrants have which can potentially bring America back to our core values. I think immigrant churches, including the Asian American church, is going to be fundamental to Americans returning to the core message of the gospel.
You share the sentiments of author Soong Chan Rah, who made this excellent point in his book The Next Evangelicalism:
"Too often the future of America evangelism is viewed as a battle over the heart and soul of middle America (i.e. white America), when the restoration of faith in American culture may actually depend on the ongoing growth of immigrant and ethnic minority Christian communities. So what is the response of the white evangelical community to the changing face of America? So far, it has been one of conspicuous silence on the issue of immigration…How much of our view on immigration is driven by a political and social agenda rather than a biblical one?" (InterVarsity Press, 2009, page 75)
I am aware that you also have a book that can better help us understand these issues.
Yes, the book is titled Welcoming the Stranger: Justice, Compassion and Truth in the Immigration Debate. I co-wrote it with Matthew Soerens, who also works at World Relief. We wrote the book together because for so many years, we were getting asked the same exact questions at churches, questions like Why can't immigrants come the legal way? There is so much misinformation about who immigrants are, what impact they have on the U.S., so we wanted to have one resource which answered those important questions. This book has really served as a resource for churches to get their basic questions answered about immigration. In the end, we want Christians and churches to have that deep understanding based on the Bible, and we also want them to get engaged and to actually act on what they know.
Natasha Sistrunk Robinson is a writer, speaker, advocate, Women's Mentoring Ministry Leader, and student at Gordon Conwell Theological Seminary (M.A. Christian Leadership, May 2014). Connect with Natasha through her website, www.natashasrobinson.com; blog, A Sista's Journey; Twitter @asistasjourney and Facebook at NatashaSistrunkRobinson.