Seeing in the Dark, Part 1
An interview with Michelle Tessendorf, Executive Director of Orchard: Africa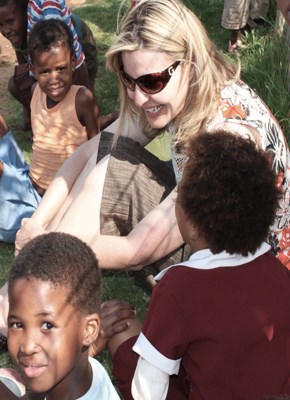 What's the mission of Orchard: Africa, and what do you do?
The ministry work in Africa is to empower the church in the Western world and in Africa to respond to the AIDS and orphans crisis that is in Africa at the moment, and it's a twofold ministry. On the one hand, we are empowering local, rural African church pastors to become community leaders and to speak up in their communities during this crisis with AIDS and the compounded poverty that's resulted. At the same time, the Western church is wanting to respond and understands that the church in Africa needs assistance, but oftentimes the Western church doesn't know how to respond or what the correct response is. So Orchard: Africa is that bridge between the Western world and the rural church in Africa, helping the churches to come up with a sustainable response in this time of crisis. We believe that the church community wants us to care for widows and orphans, and so it is the church's role to step up to the plate.
What are some specific ways you pursue that mission, and in what countries are you working?
We're currently working in South Africa, Zambia, and Botswana, and we are in the process of expanding to other countries. The whole of sub-Saharan Africa is reeling under the AIDS pandemic, and the church is struggling tremendously. And so we will go wherever God leads us and wherever we have resources to respond.
What we do is help pastors, empower them to actually respond to the needs of the orphans in the AIDS crisis. Some of the projects that we help to implement in their communities are feeding projects for children. Orphan intervention programs where pastors step in and help the extended family or help the grandmothers, who are typically caring for their orphaned grandchildren. We want to see an end to the AIDS pandemic and the HIV infection rate. So we very strongly help the pastors to implement AIDS prevention programs in the high schools.
For the Western church, we have materials that we make available to our partner churches in the United States, to help them explain the AIDS situation in Africa. Oftentimes people don't really understand, so we have curriculum available and we help our partner churches to help their congregations fully understand what's going on in Africa and to support a response that is sustainable. So we're working on both sides, empowering church leaders.
What is your specific role with Orchard: Africa?
I am one of the founders, and currently the executive director. I'm also an ordained pastor. So my role is also senior missions pastor. I lead strategically and make sure that we're planning ahead and that the programs we implement are sustainable and have great outcomes. And then, because I have a pastoral heart, I work pastorally with those we work with. We basically pastor other pastors more so than the congregations. It's really a pastoral role to other church leaders.
What talents or spiritual gifts has God given you, that equip you for your role?
I think I'm really good at strategic planning, to put procedures and systems into place that produce positive outcomes in the communities where we work. My husband has the saying that I can see in the dark, and I suppose what that constitutes is where there is a lot of confusion and people don't really know how to respond, somehow God gives me the light and I'm able to find a strategic plan and I'm able to put systems into place. And once we start working through that, the outcomes always seem to be positive. So I believe God uses me in that way.
How might other women exercise similar gifts in their own communities?
You know, I stumbled upon this ministry by accident. My husband and I were called to pastor a church in this particular city. Both being ordained pastors, he had been called to take on the senior pastor's role and I was one of the pastors on staff. And we found out about children who were rummaging on the garbage dump for food. We just felt that was unacceptable. Our children at the time were in preschool, and we just felt, how could there be children eating garbage for food? So we stepped up to the plate and started a feeding project on the city garbage dump, and here we are 20 years later and Orchard: Africa is a multinational, multicultural ministry. Many times God puts something in front of you and you just do what you need to do and you find your ministry that way.
So for other women, it's a case of what is in front of you. What has God brought to your attention? What is right there in your midst that perhaps needs some attention? Just step up to the plate in some small way. We had big pots of food and we took it to the garbage dump and fed the children, and I had no inkling that God was calling me to this ministry and where I would be 20 years later. But here I am, and I think that's something I could say to other women. If they just open their eyes and their ears and watch how God uses something small. One small step. Before you know it, you find a ministry.
What have you seen God do through your work in Africa?
We have been working at this for over two decades now, and when we started working, the AIDS pandemic was just starting to rear its ugly head, and we pretty much were stumbling around in the dark. There were no models to follow. Nobody really knew what the response was. We were listening to the Holy Spirit and seeking the sustainable solution: What can continue? Because you can start something, but it's not always easy to sustain it and continue it. What I have seen God do through our work is find those sustainable solutions, solutions that can be duplicated in other villages that are experiencing similar problems. Now, two decades later, we have children that we started working with 20 years ago who are adults and thriving in their community, and they're alive when their peers have died. They are examples. They have changed their lifestyles. They're living for Christ. And we've seen the outworking of that. But it wasn't because we had any models to follow. We basically were spearheading. Today many of the practices and projects we started with when we felt God leading us have become basic best-practice models in other communities. They're looking at these models and saying this is best practice. But we didn't know that 20 years ago. I think that was just God leading us and being able to see in the dark.