Confessions of a Burned-Out Minister
10 things I did to recover and rediscover my calling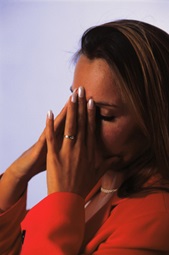 After four years of seminary and three-and-a-half years in ministry, only two words could describe me at my graduation: burned out. When I entered school, I never thought that upon my completion, I would feel so defeated and drained. I was supposed to be at the zenith of my spiritual journey. Instead, I barely wanted to sit down to study God's Word.
Upon graduation, my husband and I moved back to his hometown and I took a sabbatical from ministry. I knew I needed to allow God to fill me and help me understand where I'd faltered. I began searching Scripture. I studied the ministry of Paul. For all he went through, he continued to persevere with joy. Compared to the apostle, my trials had been a cakewalk. Yet I'd wilted like a pansy. Instead of dwelling in defeat, I began to glean principles from Scripture in order to prepare for the next assignment God had for me. Below is a summary of what God taught me through my own weaknesses and through an examination of his Word.
1. Maintain an active prayer life. Throughout Paul's letters is evidence of his prayer life. (Colossians 1:9; 1 Thessalonians 1:2; Philemon 1:4). He specifically prayed for those he ministered to as well for his own personal needs. In my own journey, I noticed that at the beginning of seminary, my journals were filled with pages of prayers. However, the entries became more fleeting as my workload became more demanding. The loss of fervency in prayer directly correlated with my spiritual burnout.
2. Remember for whom you are working. Performance anxiety can often lead to working long hours and unnecessary pressure. As servants of the Lord, we must realize that we were called by God for a purpose. Not only are we called by him; we are also equipped by him to complete the task to which he has called us. Paul recognized that his calling was from God and not man. He therefore did not obsess over human approval (Galatians 1:10). His sufficiency came from Christ and he was able to move forward in ministry with that truth as his springboard. In my own ministry life, I had begun to rely on my own talents to maintain "job performance" and I was seeing each opportunity for ministry as another task to be completed. Therefore, success was measured by human standards rather than obedience to God. When I realized that I could not please everyone, I felt defeated and deflated.
3. Surround yourself with co-laborers. We are not called to be "Lone Ranger" ministers (1 Corinthians 3:9). Paul surrounded himself with people who caught his vision (Romans 16:3, 9, 21; 2 Corinthians 8:23; Philippians 2:25; 4:3). God established the Body of Christ and has gifted each of us uniquely for a reason. We would be arrogant to think we are best suited to tend to all the ministerial needs within the body. I had wrongly assumed that others would not want to participate in certain tasks, which led to exhaustion and a lack of shared ownership within the ministry.
4. Do not forget your first love. One of the most heartbreaking examples of burnout within Scripture is that of the church of Ephesus. Having been known for their love and zeal, the Ephesian church was reprimanded for having forgotten their first love merely a generation later (Revelation 2:4). Their works were merely habitual with the consequence being potential removal as a church. I realized at the end of my tenure in seminary that I had become like the Ephesians. I had persevered, but I had lost my passion. I was simply going through the motions. In order to be effective in ministry, we must first nurture our own relationship with God.
5. Keep devoted times a priority. This principle comes in tandem with the previous principle. Throughout Jesus' ministry, He went away to be alone with God (Luke 5:16; 6:12; 9:18; 11:1). Many times it was right before or after a big test, decision, teaching, or miracle. If Jesus needed time alone with the Father, who are we to think we can do ministry without it? Too often, I had equated preparation for work or school with spending time with God. They are not the same because our attention is divided.
6. Learn to say no. A wise friend once told me that doing tasks God has not called you to do is just as disobedient as not doing tasks to which he has called you. In ministry, we often think that every opportunity is a God-given opportunity, which is not the case. In Acts 16, the Holy Spirit did not allow Paul and Timothy to preach in Asia or to go to Bithynia. We must prayerfully consider each opportunity that comes our way and after coming to a conclusion, not be afraid to say no.
7. Handle criticism with grace. Many people who burn out in ministry do so because they have not learned how to handle criticism (Proverbs 29:1). Either they will not accept negative feedback, or they dwell on it and consequently, the compiled remarks destroy them. As leaders in ministry, we must recognize that God uses criticism in order discipline, stretch, strengthen, and grow us and our ministry (Revelation 3:19). We must therefore weigh each statement for the truth and utilize it to enhance our ministry. We must then move on and move forward. I had allowed others' comments to haunt me, which led to bitterness and heartache.
8. Take time to celebrate victories. Often, ministry moves at a pace that is comparable only with the speed of light. Before the curtain closes on one event, three planning meetings have already taken place for the next. However, in order to avoid burnout, it is important to recognize and celebrate what God is doing through the ministry (Psalm 9:1). For each event, you should schedule time to either meet with leadership or process on your own all the Lord did through and within the ministry. Not only will it provide you with a time of thanksgiving; it will also allow you to process procedural aspects for future events. In my previous ministry experience, I never took time to celebrate what God had done through me, so I often didn't recognizing how powerfully he was at work in my life.
9. Maintain an attitude of humility. Proverbs 16:18 says, "Pride goes before destruction, and haughtiness before a fall." If a burned-out minister really looks deep at the heart of the matter, an element of pride probably got in the way of ministry. The Greek word for "minister" means "servant." As a minister of Christ, humility should be a key characteristic. Otherwise, burnout will be inevitable.
10. Do not give in to grumbling or complaining. One of the hardest parts about ministry is hearing others grumble and complain. However, one of the most toxic things you can do to your ministry is give in to grumbling and complaining (James 5:9; Colossians 3:2). When I think about my downfall in ministry, one of the key elements was giving in to petty grumbling. Instead of edifying one another, words were spent complaining about what was wrong with the ministry. Soon the focus was not on building up but rather tearing down. Now one of my mottos is to have a positive ministry. Not only do I not take part in negativity, I have changed the culture so it is not allowed and it is squashed immediately.
When I first returned home, I took inventory of how I had burned out of ministry. After confessing my sin and accepting God's forgiveness, I began to develop a discipline in order to avoid burnout in the future by applying the biblical principles I had learned to my everyday life. I realized that ultimately God wanted my affection and devotion above all else. This became my first priority. I then began to volunteer at our local church, staying mindful that God was the one leading every move in my life. Soon God began to lead my heart back into vocational ministry. I now serve as a children's minister, an area of ministry where I never would have placed myself. But the amazing thing about my job is that I love every aspect of it. Not because I am the world's biggest kid person or because it is the most glamorous job this side of heaven. Rather, I know that God prepared me for the role, equipped me to do the work, and sustains me each day. Ministry is an outflow of my relationship with God rather than a position I must fill. Today I minister with a sense of humility because I have gone through the trials of past experiences. However, my perspective of ministry is now one that recognizes priorities, prayer, and partnership.
Cortney is a wife and a mother of two children. She graduated from Dallas Theological Seminary with a masters in Theology and serves as the children's minister at One Heart Church in Norcross, GA.