Habits of the Heart, Part 2
Why Routine Spiritual Practices are Still a Good Idea, Part 2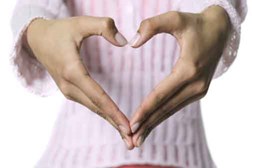 I knew, by simple intuition, that it was the voice of God I was hearing. He—who had named light and sky, sun and moon, male and female, the very same God of Abraham, Isaac, and Jacob—called my name one hot July day as I stood overlooking a lake in northern Ohio.
Jen.
I was 16—and planning for my prodigal return much later when I would be ripe for domestic life and repentance. And although I'd grown up in a pew and, as a little girl, wondered when my dangling legs would stretch long enough to touch the floor, as a teenager I decided I was growing out of sermons and hymns as if they were crinkled, crayoned Sunday school papers.
What for most people requires the better part of a decade (or at the very least, a four-year university experience), I had managed to accomplish in two short years, between the ages of 14 and 16. At 16, I was not old enough to buy cigarettes, but apparently, I could have regrets free of charge.
Thanks to grace, I attended summer camp with my church youth group and came back to God earlier than projected—at 16 (not 30), on that day God met me on the shores of an Ohio lake. But being warned by camp counselors of the rates of teenage summer camp flash-in-the-pan faith, I took up their challenge of forming two regular spiritual practices for the next six months: I would read my Bible every day for ten minutes and pray for five. (Yes, they quantified communion.) After that time, we all hoped the daily disciplines would have become habit and I'd be on my way to a lifetime of allegiance to Christ.
Perhaps those commitments sound legalistic—I'm sure I kept them for years in that spirit. Perhaps daily disciplines seem to reduce the desire for God into a dry, perfunctory routine. At times, these habits, I admit, have had all the explosive fireworks of a child practicing his math facts.
And although these criticisms may be valid, they do not invalidate the beautiful and nearly invisible process of transformation that was inaugurated in my life when someone commended to me the value of spiritual habits and I took them seriously.
I regret that habit is a kind of cultural dirty word. Our preference for authenticity drives a deep cynicism into practices that seem to be more rote than real. Habit conjures the sense that something is bereft of feeling. But this skepticism misses the very point of spiritual habits: when we practice something regularly, it becomes to us second nature. Habits have the uncanny ability to form the unreflective, subconscious parts of our behavior. Borrowing again from James K. A. Smith's ideas in Desiring the Kingdom, habits are the "hinge that turns our heart."
The idea that the transformation of our hearts is cultivated through deliberate habit is a biblical one. For example, in Ephesians 4, Paul challenged the church to "throw off your old sinful nature and your former way of life…Put on your new nature, created to be like God." But rather than maintain these suggestions in the abstract, Paul invited his readers to new habits of community: "Stop telling lies…If you are a thief, quite stealing…Don't use foul or abusive language. Let everything you say be good and helpful" (Ephesians 4:22-29).
"Virtue…is what happens when someone has made a thousand small choices," suggests N.T. Wright in his book After You Believe: Why Christian Character Matters. "[It] requires effort and concentration to do something which is good and right but which doesn't come 'naturally'—and then, on the thousand and first time, when it really matters, [it comes] 'automatically,' as we say…Virtue is what happens when wise and courageous choices have become 'second nature.' "
Choosing truth-telling or practicing self-control in the inconsequential paves the way for honesty and restraint in more critical moments of temptation. These are the habits of Christian character. And spiritual habits—like daily Bible reading and prayer—are at work to subtly re-form our identity as they regularly plunge us into the grand story of God and remind us of our place in it.
Habits, however, aren't always an easy sell. They stink of inefficiency; we know they are only as valuable as they are incremental and repeatable. I, like many others, would wish for a bigger bang for my buck. I like making spiritual investments today to reap transformation tomorrow. I want to see immediate benefit to my spiritual practices (and there are many more besides the ones I've mentioned). But the process of spiritual transformation wriggles out from under my demands of immediacy. Habits, like the hare, win for their commitment to slow and steady.
Ruth Haley Barton said it well in her beautiful and helpful book Sacred Rhythms: "I cannot transform myself, or anyone else for that matter. What I can do is create the conditions in which spiritual transformation can take place, by developing and maintaining a rhythm of spiritual practices that keep me open and available to God."
Habits are the conditions of transformation that we create, and our routine spiritual practices are a spiritual access point of the heart. While we may be tempted to hate the drudgery of habit, we are also best reminded that God usually doesn't arrive in the momentous moments—in the earthquakes and four-alarm fires.
It's more likely we'll find him in a whisper.
Jen Pollock Michel writes forToday in the Word, a devotional published by Moody Bible Institute. She is also a regular contributor to Christianity Today's blog for women, Her.meneutics. In 2014, she is releasing a book with InterVarsity Press about the importance of desire for the life of faith.