Be Still, Ailing Minister, Part 1
Cocooning is crucial for spiritual transformation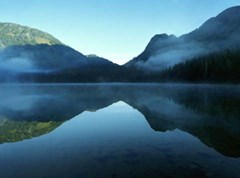 Natasha cradles her coffee cup between her trembling hands. Holding that cup, it seems, is the one thing she can do to keep herself together.
Usually she sits erect—shoulders back, head up, chin square, eyes tuned in. Natasha typically leans in during a conversation and engages her audience, however small or large, with hospitality, confidence, and grace. This day she is a shadow of herself.
Her shoulders slump with the weight of her broken heart and grieving soul. Her gaze rarely wanders from the surface of her coffee. She spends most of her meager energy on containing tears.
This is not the church leader I know.
"I…I…I just feel so…so vulnerable and skittish," Natasha says. "I feel like I could break down sobbing at any minute. I am so hurt; I'm not sure which part I'd be crying about. And if anyone asks anything of me, even the slightest request, I feel like an elephant is sitting on my chest. I am totally unable to give, and…and…"
She trails off and searches my eyes for reprieve.
"You're spent." I complete her sentence. "You're burnt out; your confidence is shaken; you're wondering, after these good years of ministry, how this could have happened; and you're even questioning your call."
She nods. Her body relaxes. Thank God you understand, it says to me. And I do.
How do I proceed? Natasha's nonverbals communicate again. Help me, please.
I've Been There
Natasha and I share many things. Today we are unified by our toxic church experiences. We are both wounded church leaders who no longer serve in our former posts. We both sit bewildered at once-strong relationships with lay leaders and clergy in our respective congregations that have gone sour. Natasha a children's minister and me a pastor, we are known to be wellsprings of compassion, encouragement, and wisdom. Now we are parched and utterly unable to nurture.
The difference is that she is just beginning her huge spiritual journey, and I, while not completely healed, am coming near the end of mine. I console and counsel my sister in Christ, having already walked rugged miles in the moccasins she is just donning.
"You are cocooning," I say. "And the best you can do for yourself, your ministry, and most importantly, your relationship with God, is to be still and let God and others love on you without obliging yourself to return the favors."
Natasha's eyes glazed over. Her brow wrinkled in either disagreement or confusion. Ministers are the worst at being still and allowing themselves to be spiritually fed.
Cocooning—Slothful or Spiritually Necessary?
Author Faith Popcorn coined the term "cocooning" in the 1990s, referring to "the trend that sees individuals socializing less and retreating into their home more." She noted cocooning as a commercially siginifant trend that would, among other things, lead to stay-at-home electronic shopping.
When cocooning, people turn into themselves and isolate themselves from the outside world. It's an all-about-me thing to do, cocooning is. Phone calls might not get returned. Email probably isn't even checked, much less responded to. Relationships, connections, and responsibilities take a back seat to the world that turns within the cocooner's own life and home.
Christian theology, specifically in the Bible, teaches against such behavior. Created in the image of the Triune God (Genesis 1:26–28), we are made for relationship with God and one another (Genesis 2:18–25). Beyond that, together we make up the body of Christ (1 Corinthians 12), each doing our part for the common good. We need one another to function (1 Corinthians 12:14–24), and together we both suffer and rejoice (1 Corinthians 12:26). Sure, Jesus withdrew to pray (Luke 5:16), but as far as we know these times were brief.
Seeing Christian community as one of six "holy habits that produce spiritual growth," the Wesleyan tradition lists cocooning, in addition to our other "cultural trends" of fragmentation, isolation, consumerism, as something which inhibits our relationship with God.
Based on this we might conclude that the Christian within her cocoon is selfish, lazy, and inconsiderate of others. Or we may fear that over time, as she sequesters herself from society, she will lose contact with people and her relationships may deteriorate.
To both I say exactly, and God is at work in the midst.
To be continued…
Rev. Angie Mabry-Nauta is a writer and an ordained Minister of Word and Sacrament in the Reformed Church in America (RCA). She served as a solo pastor for six years. A member of the Redbud Writer's Guild, Angie blogs at "Woman, in Progress…". Follow her on Facebook and Twitter @Godstuffwriter.