Be Still, Ailing Minister, Part 2
Cocooning Is Crucial for Spiritual Transformation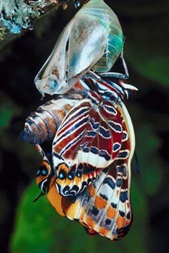 I had looked and felt much like Natasha about 18 months prior to our coffee shop chat. I'd sat in a stunned silence on the oversize sofa in the counseling room at QuietWaters Ministries, an intensive care retreat center for pastors and missionaries in crisis in Denver, Colorado.
Five and a half years of solo-pastoring had come to a screeching and painful standstill. Diagnosed with depression, anxiety, and burnout, I was on an emergency sabbatical from church. I did not know if I would return to serve my congregation with renewed fervor, or to leave and go…well, I didn't know that either. I spent two weeks at QuietWaters at the beginning of my sabbatical, desperate for answers.
How did I get here? How do I heal from this depression? What is next for me?
As the second half of my two-week stay began, my counselor held up a graphic to help me understand the chaotic journey I was undergoing.
"About a year ago you were here." She pointed to the page. "Now you are here, and you need to stay there as long as necessary. There's no telling how long it will be, but you'll know when it's time to emerge. If you try to break free before you're ready, truly ready, you'll do more harm than good, and you'll end up right back where you were at the point of your burnout."
I blinked. Beyond "Uh…okay," that was all the response I could muster.
My counselor referred to Hudson's Cycle of Renewal, a transition model developed by Hudson Institute of Coaching founders Fredrich Hudson and Pamela McClean in their book LifeLaunch. Typically, the model is used for corporate coaching, and specifically when someone is in the midst of "a transition or searching for redirection and enrichment of their careers or lives."
Career Change and Life Transition Coach Janet Cranford succinctly outlines Hudson's cycle here.
As strung out as I felt, I could see theology all over Hudson's model. God's fingerprints evidenced the Lord's recent doing in my life throughout the four phases. The Spirit drew to the margins the veil that clouded my vision as my counselor explained each step to me. The path that had brought me to my depleted state and the path that was yet before me shone with morning-dawn clarity. It mattered not exactly how I got where I was, nor was I concerned with how I was supposed to get where God deemed that I go. The brush had cleared, and that was enough for me to praise my Maker.
Indeed, I was firmly in Phase 3—cocooning, supposedly the darkest, most uncertain, isolating, and frightening stage of the four. Like the caterpillar in nature, the old me was in a pupal stage, dissolving. I was changing into my new form, the beautiful creation God meant for me to be. God had called me into this transition and wrapped this silk around me. All of this, I was surprised to learn—the burnout, the depression, the painful dying to old ways, the darkness of the cocoon, and the cocoon itself protecting me while I processed—was part of God's plan.