Be Still, Ailing Minister, Part 3
Cocooning Is Crucial for Spiritual Transformation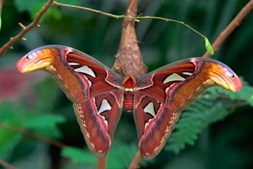 Darkness is rich with theological meaning. Our first thoughts may be of evil things, ala "the powers of darkness." But there are other applications. Darkness hides things and people, like Nicodemus' first meeting with Jesus under the cover of night. From the darkness, chaos, and formless void God formed all created matter, and God's Spirit hovered over the deep. When Jesus' breathed his last on the cross, darkness covered the earth—an early afternoon sky looked like that of late evening. In the darkness of the Holy of Holies within the Temple, God dwelt.
We don't know what darkness means. It may offer and provide good, ill, and everything in between. We can't see what's in front of, behind, or around us. Fear easily seizes us, and anxiety grips our minds, robbing us of our well-being.
Biologically and spiritually speaking, darkness is an incubation space where the conditions for development are precisely as they need to be. It is in the darkness of the cocoon (of the womb, of the tomb) where God does some of God's best work: shaping God's beloved into who they are meant to be.
When author Sue Monk Kidd was pregnant with her now-adult daughter, her son Bob, then 3 years old, touched his mother's protruding belly.
"Mama, is it dark inside there where the baby is?" he asked. He was scared of the dark, and afraid for his developing sibling.
"Yes," Monk Kidd responded, "it's dark in there."
"Do you think the baby is scared in there, all by himself?" (Bob wanted a brother.)
"I don't think so, because he's not really alone. He's inside of me."
At that point Monk Kidd had an inspiration. She'd been spiritually struggling and was in "an inscrutable inner darkness unlike any [she] had ever experienced. A spiritual night." After she answered Bob, Monk Kidd understood.
"When we enter the spiritual night, we can feel alone, encompassed by a fearful darkness," she writes. "What we need to remember is that we're carried in God's womb, in God's divine heart, even when we don't know it, even when God seems far away."
Following my burnout and exit from congregational ministry, the darkness of my cocoon seemed my only constant friend. I did not like her. Praise be to God, my cocoon did not take this personally, and the darkness remained neutral and held ground. God was working. Exhausted from wrestling with God and lacking other options, I finally stopped fighting and succumbed to my own spiritual night. The Holy Spirit spoke to my heart often, reminding me that God had wrapped me in an outer shell in order to protect me, and that God carried me every second of every day.