Be Still, Ailing Minister, Part 3
Cocooning Is Crucial for Spiritual Transformation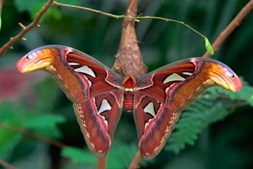 Darkness is rich with theological meaning. Our first thoughts may be of evil things, ala "the powers of darkness." But there are other applications. Darkness hides things and people, like Nicodemus' first meeting with Jesus under the cover of night. From the darkness, chaos, and formless void God formed all created matter, and God's Spirit hovered over the deep. When Jesus' breathed his last on the cross, darkness covered the earth—an early afternoon sky looked like that of late evening. In the darkness of the Holy of Holies within the Temple, God dwelt.
We don't know what darkness means. It may offer and provide good, ill, and everything in between. We can't see what's in front of, behind, or around us. Fear easily seizes us, and anxiety grips our minds, robbing us of our well-being.
Biologically and spiritually speaking, darkness is an incubation space where the conditions for development are precisely as they need to be. It is in the darkness of the cocoon (of the womb, of the tomb) where God does some of God's best work: shaping God's beloved into who they are meant to be.
When author Sue Monk Kidd was pregnant with her now-adult daughter, her son Bob, then 3 years old, touched his mother's protruding belly.
"Mama, is it dark inside there where the baby is?" he asked. He was scared of the dark, and afraid for his developing sibling.
"Yes," Monk Kidd responded, "it's dark in there."
"Do you think the baby is scared in there, all by himself?" (Bob wanted a brother.)
"I don't think so, because he's not really alone. He's inside of me."
At that point Monk Kidd had an inspiration. She'd been spiritually struggling and was in "an inscrutable inner darkness unlike any [she] had ever experienced. A spiritual night." After she answered Bob, Monk Kidd understood.
"When we enter the spiritual night, we can feel alone, encompassed by a fearful darkness," she writes. "What we need to remember is that we're carried in God's womb, in God's divine heart, even when we don't know it, even when God seems far away."
Following my burnout and exit from congregational ministry, the darkness of my cocoon seemed my only constant friend. I did not like her. Praise be to God, my cocoon did not take this personally, and the darkness remained neutral and held ground. God was working. Exhausted from wrestling with God and lacking other options, I finally stopped fighting and succumbed to my own spiritual night. The Holy Spirit spoke to my heart often, reminding me that God had wrapped me in an outer shell in order to protect me, and that God carried me every second of every day.
I knew when cocooning began for me, but I didn't know when it would end. At first, while I was fighting, the uncertainty drove me crazy. When will this end? How am I ever going to endure this? What will happen to me? Will I even recognize myself? Will others know how to be in relationship with the "new me?" Will I?
After I let go, I simply trusted. God has good plans for his people (Jeremiah 29:11). For me this meant God knew about my plight and I could rest in that knowing. I came to understand that my cocoon, this protected spiritual darkness with all of its mystery, was part of God's plan.
I cocooned for two years. When I started punching through my cocoon so that I might live in God's creation once again, I was indeed a new creation (2 Corinthians 5:17). What's more, I had the strength I needed to fly with Christ to the heights of what God had in store for me. God knew how much time I needed. Left to my own, I would have bugged out of that cocoon way too early. I'm sure of it.
Natasha now knew my full story, and she understood what was in store for her. She and I prayed together. Coffee-shop life bustled around us, but we were on sacred ground and in sacred space. Time stood still as we beseeched God with tears streaming down our cheeks. Change hurts, and darkness is mysterious and frightening. At least a cocoon holds and protects the delicate changeling within so that all that will may come to pass.
Natasha cocooned for six months. She spoke to barely anyone. Needing to be Mary sitting at the feet of Jesus, she gave herself a break from her typically Martha ways (Luke 10:39-42). She did little, ministered to others none, cried, journaled, and prayed. Natasha took a sabbatical from church services, choosing to worship God in private and with her small group only. She listened to herself, took care of herself, learned to love herself anew, and entered the place where the Holy Spirit resides within her to connect with God. She was absorbed in God and self completely.
It was exactly what she needed. Cocooning was part of God's plan for her. Truth be told, cocooning is a part of God's plan for everyone.
God calls each of us to wholeness and purposes greater than we can design for ourselves. In order for us to live into our divine design, we must, like our Savior, die to our former selves and rise again to our new lives. There is no Easter without Good Friday and the time in the sealed tomb. We must, like Jesus, endure the entire journey.
Sue Monk Kidd continues, "We're being drawn beyond where we are into an entirely new way of relating to God, one that's beyond anything we've even imagined…God guides us the long way round. And sometimes that means winding through a dark wood. It doesn't mean we're lost, however. The darkness is part of the trip. Too many of us panic in the dark. We don't understand that it's a holy dark and that the idea is to surrender to it and journey through to the real light."
Rev. Angie Mabry-Nauta is a writer and an ordained Minister of Word and Sacrament in the Reformed Church in America (RCA). She served as a solo pastor for six years. A member of the Redbud Writer's Guild, Angie blogs at "Woman, in Progress…". Follow her on Facebook and Twitter @Godstuffwriter.