Healing Wounds from Sexual Violence
There's power in men and women working together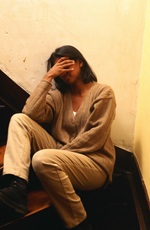 The White Ribbon Campaign (WRC) posters hanging all over Ryerson University's campus caught 17-year-old Miranda Hassell's eye. "Make up…or concealer for bruises?" read the text on one poster, images of a compact and a brush.
Started by men for men in the 1980s, WRC works to engage men in ending men's violence against women, while inspiring them to be the best versions of themselves. Today it runs workshops on gender and language in 60 countries. WRC offers specific resources geared to male mentors working with boys, and it works vigorously to highlight the need for male involvement in ending all violence against women through innovative campaigns like Walk a Mile in Her Shoes and What Makes a Man conferences.
The WRC posters lit a fire in Miranda. That first year at university, she went to every workshop WRC offered on campus, needing to learn all she could about violence against women and pulled in by the candor and conviction with which the men running the workshops talked about the issue. Before WRC, she'd never heard men acknowledge that men inflict the majority of violence against women. "And here [they] were talking about how they could do something to stop it," she recalls. That very year she volunteered to be co-chair of Ryerson University's WRC.
Five years earlier, a close family friend, Christian and near to Miranda's age, had sexually violated her. "I was scared. I couldn't breathe. I froze. I didn't know what was happening," Miranda remembers. No one had explained sexual touch or feeling to her. She had no idea what was appropriate or not. "I didn't say yes. But I didn't say no either." Time slowed down. "It could have been five or ten minutes later…or an hour. I don't know. I made up the excuse that I heard Mom calling my name. I just ran away."
The freezing that began that day deepened. Ultimate trust and mutual love didn't mean that the males closest to her couldn't also "do that." After all, a family friend she'd trusted had done it and so hugs from her father made her feel uncomfortable. The first person she told, her best friend, didn't believe her. Miranda didn't tell her parents for two years and only then because their ongoing compliments about the family friend and his achievements made her angry. She had to set the record straight.
Her distrust and discomfort didn't stop there. She distrusted the Christian leaders—camp counselors and youth group leaders—in her life who talked about sex. "Sure, I mostly believed what they had to say because of what was in the Bible, but I didn't think that any of them had experienced what I'd gone through."