The Ministry of Passion in Marriage
I learned to put my sex life before church life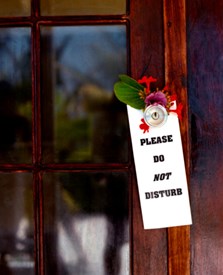 How many women do you know who are serving in the church, on the board of their children's Christian school, at the local mission serving food, sponsoring prayer meetings—doing mighty kingdom work for the Lord—all while neglecting their husbands, who are at home waiting to make love? Yes, make love—the anomaly of countless marriages.
I know of several women who epitomize this kind of lifestyle; in fact, I know one woman very well—me. My life looked that way as a new Christian. With all the passion and zeal I had inside me, I allowed ministry to be the purpose I longed for while my marriage was simply an added byproduct.
From the time Omar and I were married, we added children to our family, argued very little, trusted one another—enjoyed each other's company; however, our marriage was passable at best. Enhancing passion was not a concern I had. My thoughts were, I'm married, I have four children—passion is a misleading invention created on television.
My surmise, however, was completely out of line with God. And unfortunately, a lot of marriages today represent that same thinking: sex is a formality rather than a sacred union between man and woman, and this mindset creates nothing more than a methodical presence. The Song of Songs is a gentle reminder of pure romantic wedded love. It's almost hard to read the book of Songs without feeling as if you're imposing on two people madly in love. God wants us to know that while he calls married couples to be fruitful and multiply, planning children is not the only reason a couple should be making love, and women in leadership are obligated to be well-versed in the biblical example of passion in marriage.
God Takes Control
While I was on my whirlwind serving adventure, God eventually took control. All of a sudden, one at a time, ministry opportunities were no longer part of my life. All of a sudden my value and self-worth, as I thought, were slipping away. I had to learn that while God calls women into leadership, ministry must fall in order of his plans.
In The Power of Prayer to Change Your Marriage, Stormie Omartian lists 16 reasons marriages will fail, and one fact on the list is to make something other than God or our spouse a top priority. It's easy to assume dividing our time between several ministries is putting God first, but that's actually a false reality. Putting God first means to be in agreement with his alliance by doing all we can to ignite a passionate flame in our marriage. My husband and my home were often neglected as I spent all my time at church, and God will never ask us to disregard our home for any reason.