When Men Misinterpret Pastoral Care
All our interactions should be marked by love—plus caution and wisdom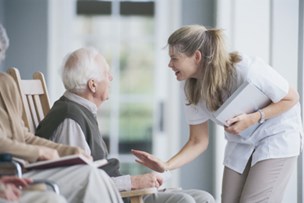 They met at a professional conference. Valerie was a young pastor, and Charlie was a recent college graduate interning with a campus ministry organization. He mentioned that he was discerning a call to ministry, so Valerie engaged him in a conversation about his vocation. He asked her some questions about seminary. And then he invited her out for ice cream after the conference. "I said 'of course,' recounts Valerie, "thinking that I would love to talk through vocational discernment more with any young person. In my role as a chaplain, I understand conversations and listening to be a huge part of what I do."
Perhaps you see it coming, though Valerie didn't, and I wouldn't have either. During their conversation at the ice cream shop, Valerie referenced the role of her significant other in sustaining her ministry. Charlie dropped his cone and blurted out, "You mean, this isn't a date?"
When I asked some female clergy colleagues if men had ever mistaken pastoral attention for flirtation, the stories poured in. Valerie's tale was the mildest; that she and her accidental date were mortified by the gaffe was the extent of the miscommunication. Several situations escalated to the point that external authorities had to be called in—bishops, lawyers, even the police.
Women who experience this crisis of pastoral relationships speak of a newfound hesitance to reach out to the men in their congregations. Will her phone call to check in with a bachelor after his mother's death be interpreted as a pass? If the third person who was supposed to attend an informal meeting cancels at the last minute, should she still meet the married man at the coffee shop as planned? If she smiles too warmly at an older gentleman during the Passing of Christ's Peace in worship (or, heaven forbid, offers him a chaste hug), will he decide she's actually secretly in love with him?
We know this happens to male clergy, but there is a difference: many of them expect it. It is common enough that they are warned to avoid such misunderstandings. Several of the women with whom I spoke had never been cautioned to pay attention to the way men interpret their pastoral care. Additionally, in many church cultures, women in ministry are a recent reality. It is still new and novel for men to receive spiritual guidance from a female pastor. "I have noticed that some male parishioners, especially the more lonely, light up when I connect with them," confided Grace, an Episcopal priest. "They don't exactly try to come on to me, but I feel this slight aura of sexuality when they respond to my interest in how they're doing, or even sometimes just when I walk in the room. It's a tiny bit creepy sometimes, but I've gotten used to it. There are so few people out there with someone to listen to them or tell them they're special, even just in God's eyes." Emily, also an Episcopalian, concurred. "I think there is something about the holiness and emotion of giving and receiving communion that can be misunderstood."