Youth Ministry Myths
An interview with Princeton Seminary Professor Kenda Creasy Dean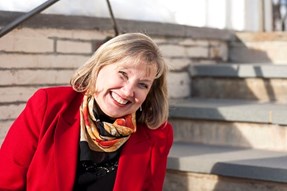 Today we're chatting with Kenda Creasy Dean, Princeton Theological Seminary's Professor of Youth, Church, and Culture. Here this wise guide reveals who lasts in youth ministry, why a youth group might not be necessary, and the particular challenges women face in youth ministry. (If you want more, you can find the full interview here.)
Kenda, we'd love to hear about your calling to write and teach. How did you discern it? How has the call unfolded in your life?
I grew up thinking that youth ministry meant "youth who do ministry" and that adults came along to help us, not vice versa. The bad PR that still plagues youth ministry didn't dawn on me until much later. As a young adult, when I finally got the courage to start the path toward United Methodist ordination, my district superintendent was excited until he found out that I wanted to do youth ministry. "Oh," he said, deflated. "Well…you'll grow out of that."
Oops.
I have a colleague who teases me about being an "accidental intellectual"—which is pretty close to the truth. I didn't set out to do anything besides youth ministry. My calling was, and is, to be a pastor, and to be a pastor means to tend a flock. Whether that flock is in a church or a classroom or through the media doesn't really matter to me; it's still ministry, you're still forming disciples, you're still preparing them, as best you can, to go into the world as Christ's envoys.
For some clergy, youth ministry has been the first job, almost a "stepping stone" on the way to ministry among adults. What's that about?
Obviously, it's an insult to everyone involved to consider youth ministry a "stepping stone" toward so-called "adult" ministries, especially since the big "secret" of youth ministry is that it's just ministry. Teenagers are people, after all, not a separate species. The needs of adolescents are simply the needs of human beings, in acute form.
Across professions, the more closely you work with children, the less prestige you have in your field. It's why pediatricians get paid less than surgeons; it's why preschool teachers get paid less than professors. People who work with children and youth in ministry often have fewer required credentials, smaller paychecks, and less prestige than people who work with adults. It's wrong, but it's real.
What on earth is "light bulb youth ministry"?
"Light bulb youth ministry," according to Mark DeVries, is when you install a bright light who attracts youth…until she or he burns out. Then you uninstall the old youth minister and install a new light bulb instead, and the cycle continues. So while the average tenure in youth ministry is longer than it used to be, burnout, stagnation, and exhaustion are still rampant. (They're rampant among all kinds of ministers, not just youth ministers).